Networking Events
We want to give you a real flavour of Barcelona while you are at World Routes and our comprehensive hospitality programme has been specially designed with this in mind.

Saturday Reception
23 September 2017, 17:00–19:00
Dress Code: Smart Casual
The Saturday Reception will take place at Shoko and will provide delegates with the opportunity to network ahead of the main business days of the event. Event transfers will be provided from Official Hotels.

Welcome Reception
24 September 2017, 17:30–19:30
Dress Code: Business attire
The Welcome Reception will take place in the Fira Gran Via, the official event venue. Designed by the Japanese architect Toyo Ito, winner of the Pritzker prize, the Fira Gran Via is one of the largest conference venues in Europe.
Delegates will be treated to a wide range of delicious local delicacies and refreshments throughout the Welcome Reception. The event will provide an opportunity for delegates to network in a relaxed setting following the first full business day of the event.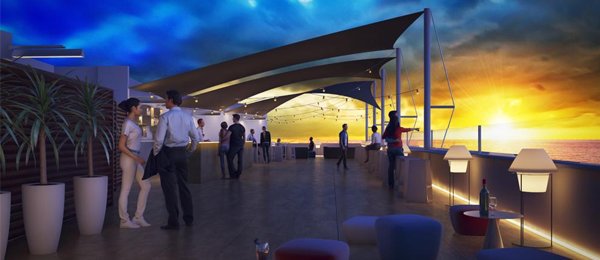 Aena Sunday Reception
24 September 2017, 20:00–23:00
Dress Code: Smart casual
Join Aena for their reception at Café Del Mar on Sunday evening. Enjoy a selection of Spanish tapas, alcoholic beverages, and musical entertainment after the first day of World Routes. Cafe del Mar will provide a spectacular location for Aena's Sunday Reception.

Networking Evening
25 September 2017, 19:00–23:30
Dress Code: Smart casual
The Networking Evening, which will include the World Routes Marketing Awards, will take place in Palau Sant Jordi.
Built using innovative hydraulic technology, Palau Sant Jordi was designed by the acclaimed Japanese architect Arata Isozaki and was one of the main venues for the 1992 Summer Olympics.
A masterpiece of engineering, the Palau Sant Jordi will provide a spectacular backdrop for the industry's most coveted awards.
It will not be possible to get a taxi to the Networking Evening venue due to road closures in the area, please ensure you take an Official event transfer which will run from all Official Hotels between 18:45 - 19:30. Transfers will run from Official Hotels to the Palau Sant Jordi between 19:00 -19:30.
---

Farewell

Reception
26 September 2017, 17:00 - 19:00
Hosted by the Guangdong Airport Authority, host of World Routes 2018, the Farewell Reception will provide delegates with a taste of Guangzhou's famous hospitality and what they can expect when visiting 'the City of Flowers." The Farewell Reception will take place in the Fira Gran Via.