Routes Americas 2021 took place in Orlando, Florida and Virtual from 23 – 25 June 2021. Routes Americas 2024 will take place in Bogota, Colombia from 19 – 21 March 2024. View all our other upcoming route development events.
As the only air service development event that unites the entire region, Routes Americas 2021 will be critical in stimulating the recovery of the market.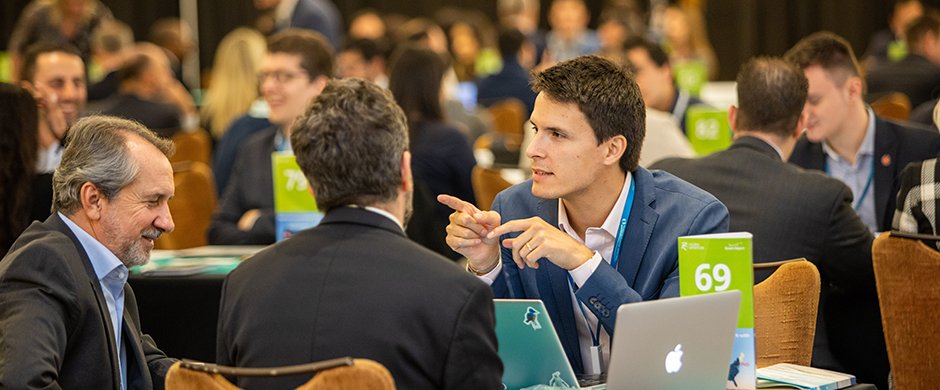 Our hybrid event will deliver a platform for airports and destinations to highlight cost-effective route propositions to airline decision makers as they look to rebuild their network and reintroduce capacity back into the market.
In the last three years, over 875 new routes in the Americas market are connected to meetings at Routes events. Meet the industry partners that can power your recovery strategy and be a part of the conversations that will reshape the region's air services.
Access the event platform Request complimentary access
What to expect at Routes Americas
A comprehensive hybrid event programme with one-to-one meetings, networking opportunities, exclusive industry insight and much more.

Business-focused meetings
Over 35 meeting slots provide efficient opportunities to meet and collaborate with your key targets to develop strategies that will rebuild your route network.

Exclusive industry insight
Hear directly from airline CEOs and industry experts as they engage in conversations that will shape future, collective industry action.

Networking opportunities
In-person social events and virtual networking through instant chat messaging and digital business card exchanges will deliver even more chances for you to engage with your industry peers.

One centralised event platform
Our digital event platform will facilitate meeting, networking and insight opportunities for delegates attending Routes Americas virtually or in-person.
Due to the current travel restrictions, the Routes team based in the UK may be unable to attend Routes Americas 2021 in-person. Members of the Routes team based in the US and the ASM North America team, along with our partners at Aviation Week Network, will be on-site to deliver the event and support with any queries. Additionally, the UK team will be available to assist with any virtual or online queries throughout the event. If you have any questions ahead of the event, or would like to speak to one of the Routes team, please contact world@informa.com.
"After more than a year of necessary isolation, we are very much looking forward to reconnecting with our airport partners at Routes Americas. So much has changed in our industry, but what has not changed is the need for close, meaningful, and personal relationships between airlines and airports."

Andrea Lusso

VP Network Planning,

jetBlue
Our commitment to delegates

When you join us for Routes Americas, you can expect to see that health and safety are a priority. A range of measures will be in place to ensure a safe, hygienic, productive, and high-quality event experience.
Access the event platform Request complimentary access
Latest Routes Americas 2021 News
Posted
Frontier's president and CEO shares his views on what airports can do to attract airlines, how the market will shake out post-COVID and what he...
Other News