The route development forum for the Americas
Orlando, Florida
• 23 - 25 June 2021
To ensure our delegates have the best possible experience—and so that even more members of the community will be able to meet in-person and rebuild air connectivity—we are making a slight adjustment to the event date.

Routes Americas 2021 will now take place on 23-25 June 2021 in Orlando, Florida at the Omni Hotel & Resort.

Hotel rooms at the Omni Hotel & Resort will be available to book with preferential delegate rates in due course.
Championing collaboration across the route development community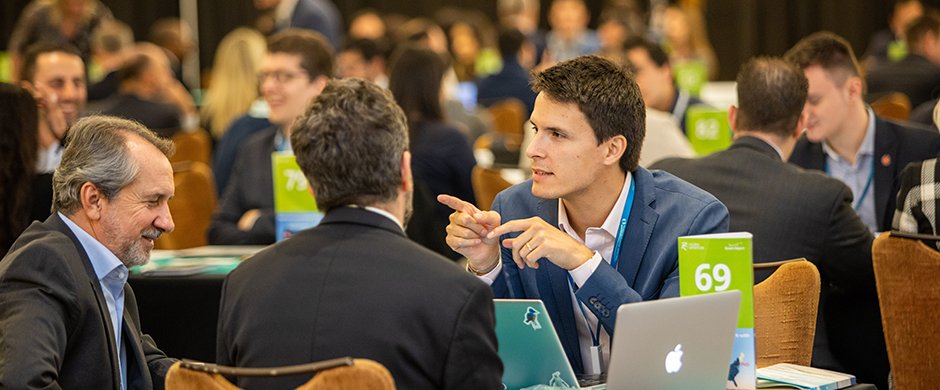 Bringing together senior decision-makers from across the Americas and beyond, Routes Americas 2021 will provide you with invaluable opportunities to reunite with the route development community in a time that will be vital to helping restore the region's air services.
Build high-value relationships with influential aviation professionals and participate in meaningful conversations that will help to stimulate the industry's recovery at Routes Americas 2021.
Book your place Why attend Routes Americas 2021?
What to expect at Routes Americas
The event will span over three dedicated business days, and will include a comprehensive programme of one-to-one meetings, networking opportunities, exclusive industry insight and much more. Find out more about the unmissable opportunities available at Routes Americas.

Business-focused meetings
With more than 35 available meeting slots, Routes Americas provides you with an efficient platform to meet with your key targets to collaborate and discuss future route strategies.

Exclusive industry insight
Featuring high-level speakers and industry experts, the Routes Americas 2021 conference programme will provide insight into the most pressing issues facing the industry.

Hospitality programme
Designed to maximise business development opportunities, the Routes Americas 2021 networking programme will provide you with an informal setting in which to foster new relationships.

Promotional opportunities
Meet directly with potential customers and create an impact on your key targets by sponsoring or exhibiting at the only air service development forum dedicated to the region.
"Routes Americas is always a fantastic opportunity to have so many of our airport stakeholders under the same roof."

Mauro Peneda
Head of Airport Affairs & Infrastructure
LATAM Airlines
Book your place Why attend Routes Americas 2021?
Latest Routes Americas 2021 News
Posted
We are confident that the recovery of our industry will begin in earnest in 2021.
Posted
Following a record-breaking event, we take a look at some of the facts and figures which shaped Routes Americas 2020.