Routes Europe Run
Kraków Airport would like to offer all Routes Europe 2016 delegates the opportunity to join the first Routes Europe charity run. It doesn't matter how experienced you are – a beginner or professional. This is your opportunity to feel great and help raise money for charity.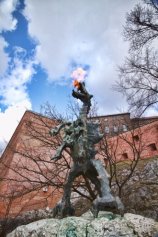 Meeting point
Wawel Dragon Statue (monument at the foot of the Wawel Castle Hill in front of the Wawel's Dragon den). This is located within walking distance of the majority of Routes' official hotels.
The running route: Along the bridges of Wisła River.
Distance: 4 km approx
The run will take place on 23 and 24 April at 8:00 and 26 April at 18:00 and will last approximately 30 minutes.
By participating in the run you are helping to support a child in need as the sponsor of the event will pay a set amount to the charity for each runner who participates.
Kraków Airport will prepare specially designed T-shirts for all runners.
To register please send your name, email address, gender, t-shirt size and date(s) you will be participating in the run to Artur Staniszewski