Charity Football Tournament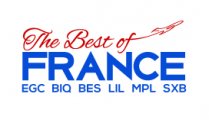 Join us for the Routes Charity Football Tournament, taking place at Routes Europe 2016.
The Routes Europe Football Tournament will take place at 14:30 on Saturday 23rd April at the University of Economics, sponsored by The Best of France.
The match will kick off at 14:30, lasting approximately 2 ½ hours. Please meet at the University at 14:00.
T-Shirts will be provided for the game and the match will be indoors, so please wear suitable trainers (not moulds or studs).
Following the match, you are also invited to join your team mates for celebratory drinks from 17:00 - 18:30.
Register as Player or Spectator
---
Charity Fundraiser
After last year's football tournament was a huge success and raised fantastic amount for a homeless charity in Aberdeen, money raised this year will be used to pay for the treatment of Oskar Kaczmarczyk. Oskar is the son of one of Kraków Airport's employees. He is 7 years old and suffers from an incurable disease called Neuronal Ceroid Lipofuscinosis type 2, a neurodegenerative brain disease. Oskar is in the care of Help on Time Foundation, an institution that helps seriously ill children. The money raised from the football tournament will be to provide care for provided to Oskar through the Help on Time Foundation.
About
The Help on Time Foundation
The Help on Time Foundation is engaged in saving the lives of children, restoring them to health, promoting their education and providing assistance in difficult material situation. The Foundation was initiated by the legendary heart transplantation pioneer Prof. Zbigniew Religa.
Help on Time Foundation looks after more than 29,000 children suffering from diseases such as cerebral palsy, heart defects, autism, Down syndrome, muscular dystrophy, epilepsy and cancer. Help on Time provides funds for their treatment, rehabilitation, medicines, medical equipment, educational aids and other special needs.
All donations, large or small will be greatfully appreciated and if you wish to donate, you can do so on our Just Giving page.
We would like to give a huge thank you to everyone supporting our fundraiser and Routes, UBM will match all donations given.