Networking Events
Welcome Reception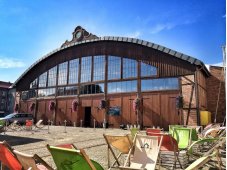 The Welcome Reception on Sunday 24th April, will take place at the Stara Zajezdnia Kraków by DeSilva. The dress code is smart casual.

Stara Zajezdnia Kraków by DeSilva is located in the heart of the Jewish District – Kazimierz. It is a place that combines history with modernity. The refurbished Stara Zajezdnia is a unique edifice. The building on the Św. Wawrzyńca street is the oldest hall of the municipal public transport tractions. The main hall belongs to the group of architectural objects which is lawfully secured and in 1985 inscribed to the book of records of stunning monuments of the UNESCO list of World Cultural and Natural Heritage. It's exterior is exposed with a stylish secession clockon top. For many years, Stara Zajezdnia served as a kart motodrom, place where our Polish Formula 1 driver, Robert Kubica started his career.
Stara Zajezdnia is not only a popular event centre and a pub. It also houses a minibrewery serving a selection of home brewed beer at the longest beer bar in Poland. From the Center of Krakow it is easy to reach within 20 minutes walking distance.
Networking Evening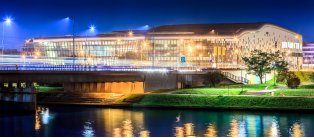 The Networking Evening on Monday 25th April will take place at the ICE Kraków Congress Centre. The dress code is smart casual.
The ICE Krakow Congress Centre is the business and cultural flagship of the city.Located in the very heart of Krakow, it is a convenient place for the organisation of diverse events - from international congresses, conferences, symposiums and business meetings, cultural events through such as concerts, opera, theatrical and ballet performances, to social meetings.

Thanks to the opening of the congress center, Kraków has an infrastructure that lets everyone enjoy thier visit to the capital of Małopolska to the fullest extent - a prestigious facility, high-class hotels an extremely diverse cultural, culinary and commercial offer. The ICE Kraków has a three-level glass foyer, which provides a view of the panorama of Kraków and the Royal Castle at Wawel Hill.
Image of ICE Kraków Congress Centre courtesy of © Krakowskie Biuro Festiwalowe, W.Wandzel, wandzelphoto.com