About Quito
Quito sits in the Andean foothills at an altitude of 2,850m, making it one of the highest capital cities in the world, and the closest to the equator.
Altitude Advice: Due to the high altitude in Quito, it is recommended to allow additional time to acclimatise before business meetings begin. Please consider arriving in Quito 2-3 days before the start of the event to allow for a healthy and gradual acclimatisation.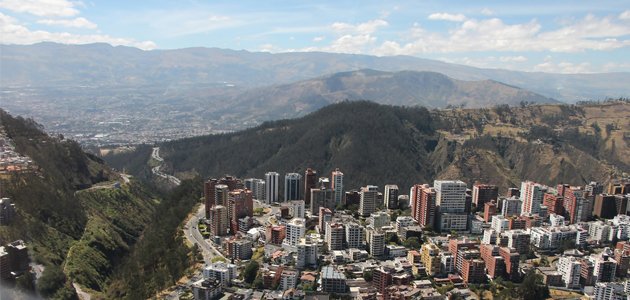 Constructed on the foundations of an ancient Incan city, Quito is known for its well-preserved colonial centre, rich with 16th- and 17th-century churches and other structures, blending European, Moorish and indigenous styles. Historical Quito was declared as the First Cultural Heritage of Humanity world heritage site by UNESCO in 1978, due to its rich and well-preserved pre-Columbian history.
Top attractions include the Iglesia de la Compañía de Jesús, Quito's most ornate church. Construction began on the Church in 1605 and took an astounding 160 years to complete, with the main altarpiece alone taking 20 years. Another must-see attraction is El Panecillo, a huge statue of La Virgen de Quito atop El Panecillo (otherwise known as the Little Bread Loaf.)
It is certain that a visit to Quito is not only synonymous with a powerful history, but an inevitability that whoever visits the city will certainly take back home a piece of its charm.