Tour Programme
Our host and their partners are pleased to offer a range of complimentary and paid tours, offering you the chance to discover the variety and beauty of the city and its surroundings.
Complimentary Tours
New and Old San Juan city tour
Date: Wednesday 17 February, departs at 9:00am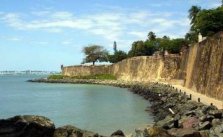 See modern San Juan as you drive in air-conditioned comfort through the areas of Isla Verde, Condado, past Fort San Gerónimo and on into Old San Juan, one of the most beautiful old cities in the New World, and filming location for big-budget movies starring such luminaries as Will Smith, George Clooney, Johnny Depp and Morgan Freeman.
Your first stop is for a short visit to Fort San Cristobal, a mainstay of the San Juan fortification system, from which the Spanish successfully defended their city from British and Dutch attacks as well as frequent assaults from various and sundry pirates. Be sure to watch their historical video on the area. In addition, search out the dungeon where there are centuries old graffiti representing images of Spanish galleons drawn on the walls.
As you continue your drive through the old city, you'll see the beautiful 17th century Spanish ironwork on the restored homes and note the blue-black glazed cobblestones that were brought to San Juan as ballast for the Spanish galleons, and were used to surface the narrow streets of the Old City. In addition, armed with our Map of Old San Juan, you will have time to explore some of the many interesting shops, boutiques and art galleries that have made this historic area their home.
To book your place on this tour, please email Rebecca Teale.
Bacardi rum distillery tour
Date: Wednesday 17 February, departs at 8:45am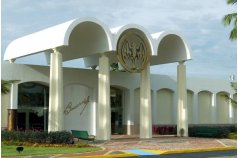 Your tour carries you out to the south side of San Juan Harbor, where you will enter the beautifully manicured grounds of the Bacardí Rum Distillery, the world's largest distiller of natural spirits. Upon arrival you will board an open-air tram with a bilingual guide who will take you to their Visitor's Building. You will be greeted by Bacardi's Tour Guide at the first stop which will be at an interior patio, a large room containing a fountain and three large prints with historical representations and the guide will provide you with information about the history of the rum making in the new world; then you will enter the theater and view a short film covering the distillation process and information about the history of the Bacardi Family. This film lasts approximately 9 minutes.
You will then enter a replica of an old distillery that houses an excellent display; here your guide will provide commentary on the special distillation process invented by Bacardi's founder and answer questions. The next gallery is an office with "original" documentation, family portraits, and a collection of rum bottles among other items. Your next stop will be for a short video, which describes the actual process of making rum. And you will have the opportunity to smell that final product; you will enjoy the aroma of the different type of rums that are bottled at Bacardí.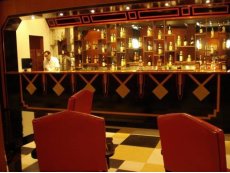 Your tour will continue to the Bacardí cocktail lounge, which resembles a 1920's bar in Cuba (the era of the prohibition). A bartender will explain and show you how to prepare the first three cocktails ever made with Bacardí: "Cuba Libre", "Daiquiri" and "Mojito Cubano", and you'll learn what inspired Bacardí in the preparation of these three cocktails as well as how they got their names.
Following the bar display you will proceed to the Rum N' Things gift shop where one can purchase Bacardí Rum as well as many other Bacardí products. You'll also be able to send a video e-mails to your friends. In addition, you will also have the opportunity to bottle your own bottle of the new Bacardi's Special Blend rum or etch your name on a bottle of their "Reserva Limitada" (Founder's Reserve) if you prefer (each of these incur an additional charge at the participant's expense). Your tour includes a welcome cocktail and a souvenir glass.
To book your place on this tour, please email Rebecca Teale.
Paid Tours
Please book your place on a paid tour by Tuesday 16 February.
Half day trip to El Yunique Rain Forest with nature walk
Date: Saturday 20 February
Cost: $52 per person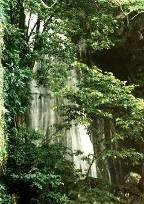 The Caribbean National Rain Forest, known as El Yunque, is the only tropical forest in the United States National Forest System. Its rugged land climbs from almost sea level to about 3,500 feet above sea level and is doused with up to 200 inches of rain every year. Nowhere in the world will your eyes observe a greater wealth of beauty than what is waiting for you in the rain forets. According to ancient Indian legend, the good spirit "Yuquiyu" reigned on his mighty mountain top throne, protecting Puerto Rico and its people. Many of the sights you will see today are the same as those that dazzled the first Spanish Explorers more than 500 years ago. You'll see 1,000 year-old trees, strange plants with exotic rainbow colored flowers, and thick vines with great
masses of lush red blossoms waving in the cool breeze. From the heart of this breathtaking beauty you'll hear the incessant, yet delightful two-note chanting of the "Coqui," the chattering of unseen tropical birds and, if you're lucky, the squawk of the endangered Puerto Rican Parrot. Includes a small trail visit as well as several stops to El Portal del Yunque Visitor's Center, La Coca Fall, and a visit to the Yokahu Tower. Duration: 5 hrs.
Catamaran snorkel sail adventure
Date: Saturday 20 February
Cost: $116 per person
At one of Puerto Rico's beautiful private marinas you will board one of our catamarans and set sail for a tranquil uninhabited isle for a day of relaxation and fun. Arrangements include a deluxe sandwich buffet onboard, drinks, free snorkeling equipment with instruction from your crew and round trip transportation from your hotel. Be sure to take along a towel, a good sunscreen and a T-shirt to protect you from the tropical sun. Beers will be sold on the catamaran so please bring cash if you would like to purchase. Depending on final passenger counts, this sailing may be non-exclusive.
Afternoon tour of La Placita de Santurce
Date: Friday 19 and Saturday 20 February
Cost: $56 per person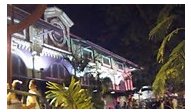 An indispensable stop during your visit to San Juan, La Placita, a quaint neighborhood of the city of San Juan that was established in 1910 with lands donated by the Government of Puerto Rico to create a readily accessible place for San Juan residents to purchase their food daily. Upon debarking your vehicle, our knowledgeable Tour Guide will escort you to the quaint marketplace where you will be introduced to the fruits, vegetables and spices that are intrinsic to Puerto Rican cuisine.
The freshest produce from all over the island are available for purchase daily at La Placita. After your tour of the marketplace, our Tour Guide will walk you around the square pointing out the most popular cafes, bars and restaurant that surround the marketplace and show you different points of interest along the way. Once the sun goes down, this neighborhood comes alive with the sounds of music blaring from the different bars and cafes. After your short walking tour, you will have time to enjoy the night life and have dinner on your own. No later than 10:30 PM, at a pre-arranged time and place, you will board your coach for your trip back to the hotel.
Mofongo and mojito tour
Date: Saturday 20 February
Cost: $115 per person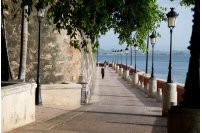 Enjoy a walking tour of Old San Juan with a focus on architecture, history, legends, and even some time for shopping! Old San Juan, a Spanish colonial city that is more than 500 years old, is a shopper's delight. As you are walking and building up an appetite, the last stop of the tour will take you to enjoy a cooking class. First, you will be greeted by the Chef who will entice you with a nice cold Mojito followed by a tasty appetizer. Then the chef will provide you with instructions and all the fixings to prepare your own mofongo lunch.
You will discover the magic of our "cocina criolla", by learning how to create a local favorite, The Mofongo – a delightful mash of fried green plantains and chicken broth into which a combination of seafood, meat, or vegeta-bles is added. Each participant will become a chef for a day and find out how this incredible Puerto Rican meal is made, and at the end, enjoy the fruits of their own delicious creation! This is the perfect ending after a walk through the historical city! Recommended attire: Cool comfortable clothes, sunglasses and walking shoes, camera and a hat.
Camuy Caverns and Lago Dos Bocas
Date: Saturday 20 February
Cost: $98 per person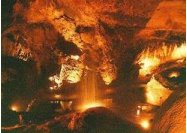 Upon departing the hotel you will proceed directly to the Río Camuy Cave Park located at the northwest side of the island.
The extensive subterranean cave systems of the park are reported to be the largest in the Western Hemisphere. A drive of approximately one hour and thirty minutes from San Juan takes you past lush landscape, pineapple farms and jagged eroded limestone cliffs as you near the area of this massive subterranean wonderland.
Your visit to the park begins with a short video as you wait to board the open-air trolleys that twist and turn their way through the road carved out of verdant foliage, before reaching the moss-lined entrance to the cave. Multilingual cave guides will escort you on foot through the enormous 200 feet high and a half-mile long cave. A large opening at one end of the cave allows light to filter through part of the cave, creating beautiful photographic opportunities. From this opening you will see one of the many sinkholes carved out by the Camuy River, the world's third largest underground river. As you walk through the interior of the cave, passing stalagmites and stalactites, you will experience the eerie illusion of timeless steps into the earth's creation. The actual tour of the caves takes approximately one hour. Head of the line privilege at the park cannot be guaranteed.
Following your visit to this fascinating underworld, you will head inland to Lago Dos Bocas located in the Municipality of Utuado. Upon arrival you will board the Ports Authority operated ferries that sail on this beautiful reservoir and admire the emerald green countryside. At one of the casual restaurants that dot the coast line, you will disembark for lunch (cost of lunch is not included). Afterwards, you will again board the ferry and head back to the pier area where you will board your bus and return to San Juan.
Night kayaking in the Bioluminescent Bay
Date: Friday 19 and Saturday 20 February
Cost: $100 per person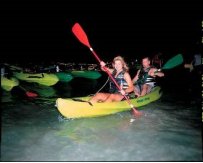 Under the blanket of night sky and the historical lighthouse of Fajardo you can touch the waters that glow with bioluminescent micro-organisms. Your activity starts at sunset in the small fishing village of Las Croabas. Here you will be met by your friendly eco-guides who will get you into your PFD (Personal Flotation Device) and situated in your back rest equipped two person kayaks. Your two Team Captains will be bringing along all necessary safety equipment, lights and refreshments.
The lead Team Captain gives a thorough pre-ride training covering all aspects of the tour and operation of the kayaks. You will paddle across the small fishermen's cover to the entrance of the Las Cabezas de San Juan Reserve. Here you enter a mystical channel that leads to a peaceful place where the mangroves create natural tunnels and the sights and sounds of wildlife surround you. During this 15 to 20 minute paddle through the mangrove your lead Captain will stop periodically to give commentary regarding the areas points of interest. Upon your return to the departure site, refreshments will be provided. Recommended attire: Bathing suit underneath clothes you don't mind getting wet, sneakers or beach shoes – no flip-flops! Bring two towels. Weight limit not to exceed 400-lbs. per kayak. Activity is not suggested for individuals afraid of the dark.
Hacienda Tres Angeles coffee plantation tour
Date: Saturday 20 February
Price: $139 per person
Hacienda Tres Angeles is locates in the town of Adjuntas, better known as the Switzerland of Puerto Rico. Due to its cool climate and high mountains it's an ideal setting for producing one of the best coffees in the world.
Once you arrive you will be escorted by the Hacienda owners to a tour of the coffee field where you will have the opportunity to learn about the flowering, pruning, soil preparation, collection of coffee beans, its varieties and bean selecting process. You will be able to see how the coffee beans are processed, including the process of pulping, selection and coffee drying with our eco-friendly technology in the 'Beneficiado'.
You'll enjoy an authentic Puerto Rican style lunch and a delicious cup of fresh coffee at the Café Hacienda Tres Angeles while admiring the beautiful view of the coffee field.
They roast their own coffee so you will have the opportunity to purchase your own bag of freshly roasted coffee to take home.
Don't miss out on this wonderful opportunity from crop to cup!