Our live blog from World Routes 2019 in Adelaide, bringing key highlights from the 25th annual route development forum. This year's Conference Programme is sponsored by App in the Air and the Ecuador Ministry of Tourism.
---
Tuesday 24 September
20.00 - Thank you Adelaide!
17.15 - Thank you to our hosts
16.00 - And the winner is...
Congratulations to Copenhagen Airport, which has scooped the Best Stand Award for the third year in a row!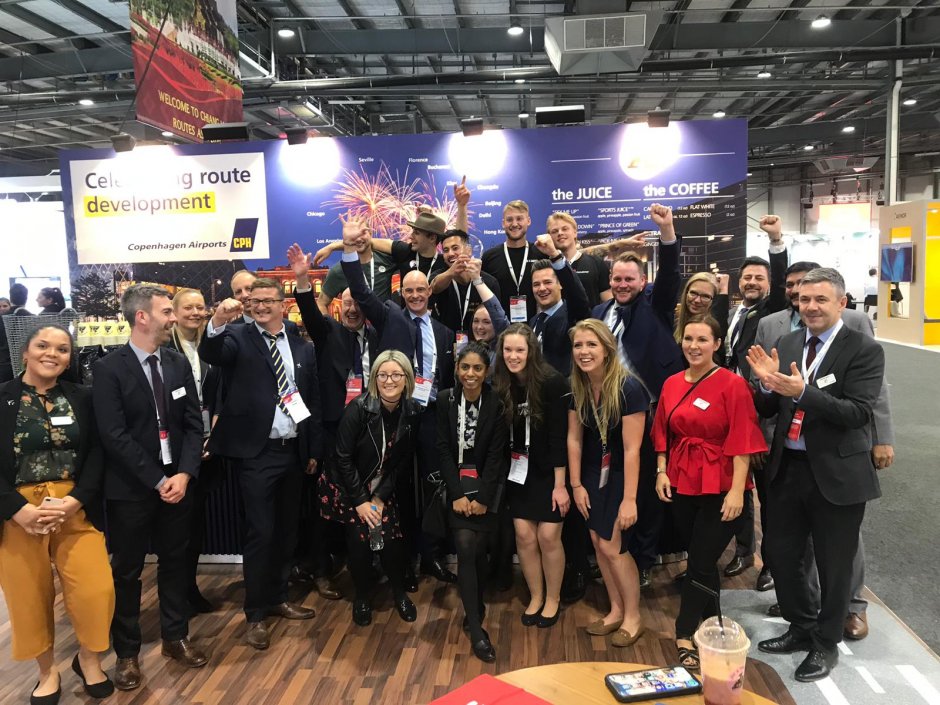 14.30 - Congratulations to the World Routes Award winners!
13.30 - Andrea Tucci from SEA Milan Airports
Andrea Tucci is the vice president aviation business development at SEA Milan Airports. The SEA Group manages Milan's Malpensa and Linate airports, and will host World Routes in 2020.
Milan Malpensa (MXP) has enjoyed a 10 percent rise in passenger numbers during the first half of 2019. What is driving the growth? What passenger numbers do you expect this year?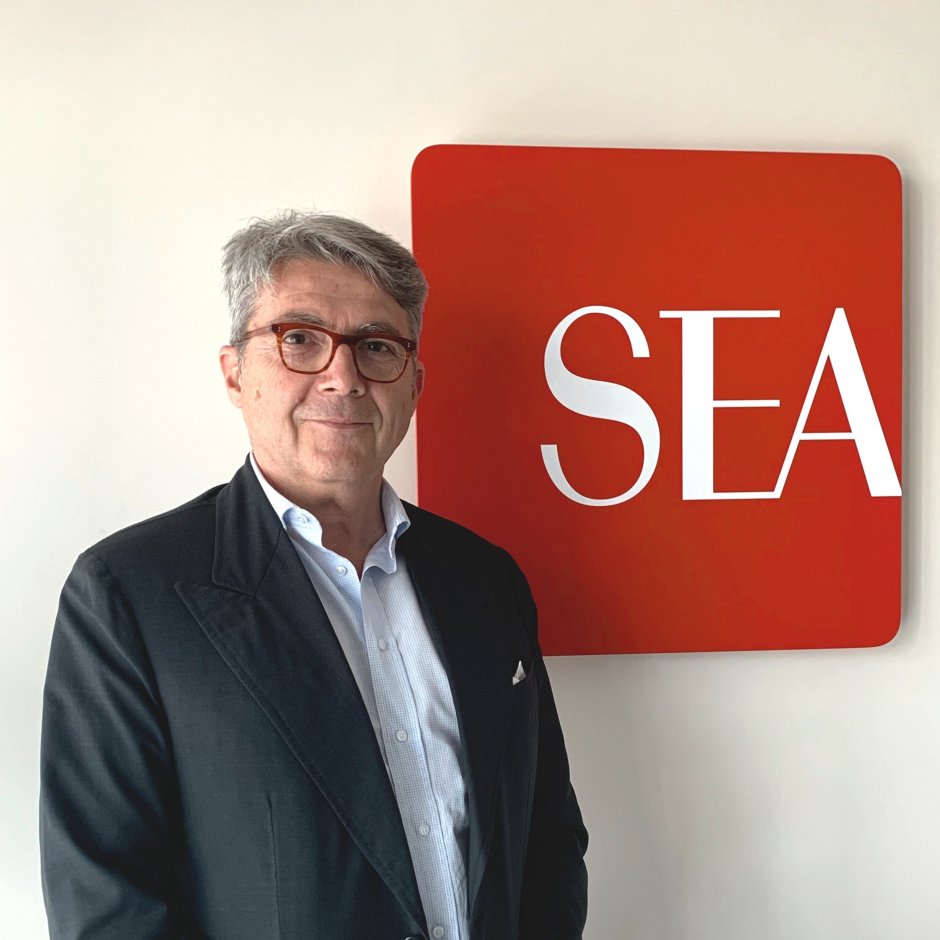 "2019 is the third consecutive year recording a double-digit growth. This amazing result is driven by the organic growth of all the different airline business models which are sustained by the different segment of traffic.
"The legacy, the LCC, the long-haul and, on top of that, Air Italy are all growing. In particular Air Italy, which is gradually strengthening its position at MXP, is contributing to the development MXP adding new routes and connecting traffic.
"The positive trend will build up a structural throughput of 27 million passengers by the end of 2019. The infrastructure of MXP is currently supporting the temporary closure of Linate accommodating an exceptional traffic increase of about 2.5 million additional pax in the latest months of the summer season (27 Jul-27 Oct)."
12.15 - See the latest images from World Routes
Head over to our Facebook page for all the latest pictures. Can you spot yourself?
11.45 - Watch the video highlights from day two!
11.00 - Singapore Changi plans for future growth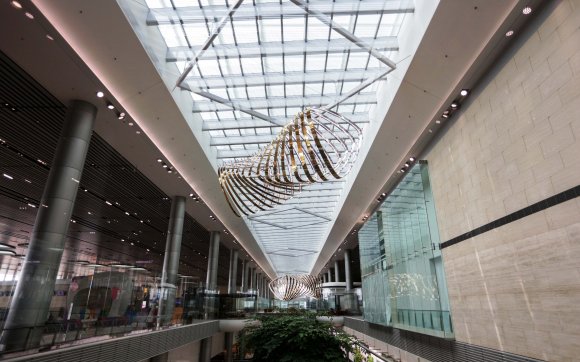 Routes finds out more about the ambitious growth plans for Singapore Changi Airport, the winner of the Over 50 Million Passengers category at the World Routes 2019 Awards.
Nobody could ever accuse Changi Airport Group (CAG) of standing still. A unique and stunning passenger experience structure fronting Changi's Terminal 1 opened in April, attracting millions of visitors.
Despite still having capacity growth for about 19 million more passengers annually beyond the 66 million currently handled, CAG has embarked on a Terminal 2 expansion that will add capacity for 15 million more passengers in the 2020s.
And CAG is now looking to even bigger things: the construction of a fifth terminal and incorporation of a third runway that could double Changi's capacity in the 2030s, allowing it to take in another 50-70 million passengers.
Such big ambitions when an airport already has spare capacity are daring, but CAG senior vice president, corporate & marketing communications, Ivan Tan says planning well ahead for growth is the better way.
"We will hit capacity as we continue to grow," he said from the company's booth at World Routes. "It's hard to do this type of construction work when you are operating at full capacity."
The T5 project, dubbed Changi East, would be Changi's largest ever and will likely cost tens of billions Singapore dollars, funded by CAG, the Singapore government and fees.
It would use a 1,080-hectare site adjacent to the existing airport that is about the same size as the current airport with its four terminals and two runways. The 4km third runway is already built, but is not connected to the airport and used only by military aircraft.
Changi East would also include cargo facilities and supporting aviation and ground infrastructure and would be one of the world's largest terminals.
10.30 - 'Game-changing' aircraft to drive new city pairs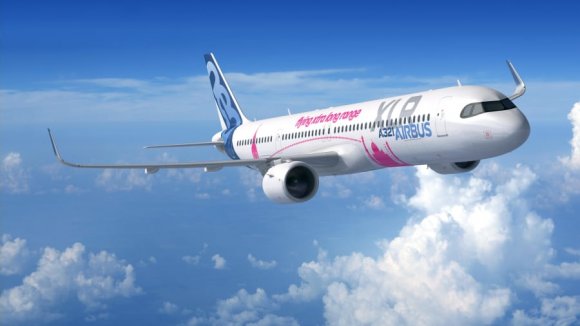 Airlines and airports anticipate a huge change in city point connections enabled by new very-long range narrowbodies and widebodies, although some say they do not yet the data to validate these emerging markets.
At a CEO roundtable hosted by CAPA chairman emeritus Peter Harbison on the sidelines of World Routes Sunday, airline, airport and tourism industry executives discussed how markets are changing.
Harbison pointed out that the four major South-East Asian low cost carrier groups—Air Asia/Air Asia X, IndiGo, Lion Group and VietJet—have placed some 85 percent of new aircraft orders in the region.
Large numbers of orders for long-haul narrowbodies like the Airbus A321XLR and long-range Boeing 737 MAX variants will have an impact on the market similar to what happened when the major Gulf carriers created new global connection points, he said,
"It will take four to six years before the real numbers are there, but it is the future," he said.
10.00 - EVA Air explains Milan route decision
Milan's status at the heart of Lombardy - one of the most populated regions in Europe and the most prosperous in Italy - proved to be a key reason in EVA Air's decision to open a new route to the World Routes 2020 host.
"While Milan is the second-largest city in Italy, it is the country's financial and economic capital and a vibrant business and manufacturing centre, making the city a popular business travel destination," spokesman David Chen told Routesonline.
"Its location in northern Italy makes it equally attractive for leisure travellers who want to shop the latest fashion, enjoy the area's beautiful green parks, visit Lake Como or explore the beautiful beaches in Liguria."
The Star Alliance member announced in July plans to add Milan to its network of destinations from next spring, becoming the first route in Europe to be opened by the carrier in the last 20 years.
The airline, which currently serves Amsterdam, London, Paris and Vienna, will open its fifth route to Europe on 18 February 2020 on board Boeing 777-300 aircraft. The service between Taipei Taoyuan to Milan Malpensa will operate four times per week.
Chen said EVA Air expects cargo to produce about 20 percent of the revenue on Taoyuan-Milan, adding the 777-300ER is the right aircraft to operate the route given its capacity to hold more bellyhold cargo than the 787-9, used for flights to Vienna.
"It also gives business travellers on limited budgets the option to book our award-winning premium economy class," he said.
Under a bilateral agreement between Italy and Taiwan, two airlines from each country are allowed to fly seven weekly flights between Taiwan, Milan and Rome. However, the only link between the two is China Airlines' three-weekly service to Rome Fiumicino, which has operated since 2016.
09.00 - Congratulations to all the World Routes Awards winners!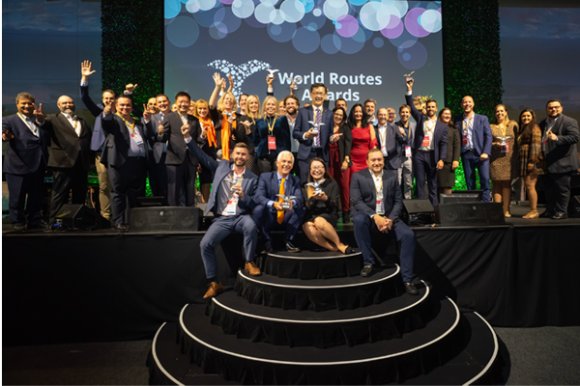 Budapest Airport has been crowned the overall winner of the World Routes Awards. Other winners at the prestigious ceremony included Wilco Sweijen from Amsterdam Airport Schiphol, who took home the Individual Leadership Award.
The annual World Routes Awards took place at the Adelaide Convention Centre last night. The awards are highly regarded in the aviation industry for recognising marketing services that support new and existing air services, as well as excellence and innovation in the route development community.
Budapest Airport was named the Overall Winner and also won the 4-20 Million Passenger category. The airport's passenger numbers have increased by double digits over the last four years, with 2018 recording a rise of 13.5 percent to 14.9 million. A total of 34 new routes have been announced or started so far in 2019, including the addition of non-stop service to Shanghai.
Upon being named the Overall Winner of the World Routes Awards, Balázs Bogáts, head of commercial analyses and planning, said "Budapest Airport are delighted to have been chosen as being the "BudapEST" airport in the world for airline marketing. Getting over 34 new routes in just one year shows that we have done a fantastic job and our airline partners have recognised this in the best possible way. I am proud of the BUD team and grateful for our airline partners!"
The full list of highly commended and winning organisations:
Overall Winner: Budapest Airport
Over 50 Million Passengers
Winner: Singapore Changi
Highly Commended: Amsterdam Airport Schiphol
20-50 Million Passengers
Winner: Brisbane Airport
Highly Commended: Athens International Airport
4-20 Million Passengers
Winner: Budapest Airport
Highly Commended: Malta International Airport
Under 4 Million Passengers
Winner: Billund Airport
Highly Commended: Zagreb Airport
Destination
Winner: Tourism Ireland
Highly Commended: Promotur - Canary Islands Tourist Board
Airline
Winner: Vueling
Overcoming Adversity
Winner: Puerto Rico Tourism Company
Individual Leadership
Winner: Wilco Sweijen, Director Route and Business Development, Amsterdam Airport Schiphol
Rising Star
Winner: Qiongfang Hu, Section Chief, Airline Development Department, Traffic Development Division at Fukuoka International Airport
Highly Commended: Samuel Ferrera, Senior Analyst Network Development, Vueling
---
Monday 23 September
19.30 - The World Routes Awards and Networking Evening is underway!
17.00 - Are you ready for the World Routes Awards?
See all the finalists shortlisted for the World Routes Awards tonight.
16.30 - Sustainable tousism panel underway
16.15 - Aircraft developments spur new market opportunities, experts say
New generation aircraft types have dramatically expanded route and market prospects for airlines, and in the longer-term new technologies will pose more opportunities and challenges for operators, according to a panel of aviation industry experts at World Routes.
The latest widebodies and narrowbodies are making new routes possible. For example, the 787 has been used to open more than 235 new nonstop airport pairs, said Alex Heiter, Boeing's director for airline network, fleet and revenue planning. And the longer-range (XLR) variant of the Airbus A321neo will be able to fly transatlantic routes "deeper into the U.S." and connect markets such as Australia and Japan, said Yves Renard, Airbus head of market intelligence and consulting.
New-generation widebodies such as the 787 and A350 are making long-range routes to high-altitude airports more feasible, said Alvaro Gonzales, CEO of Bogota El Dorado International Airport. This is particularly important at airports such as Bogota, at an altitude of 2,600m.
Regional jets are also more capable. Cesar Pereira, Embraer's VP-Asia-Pacific, said 99 percent of current narrowbody routes are within range of the manufacturer's E-2.
15.30 - World Routes Awards 2019 finalists - part three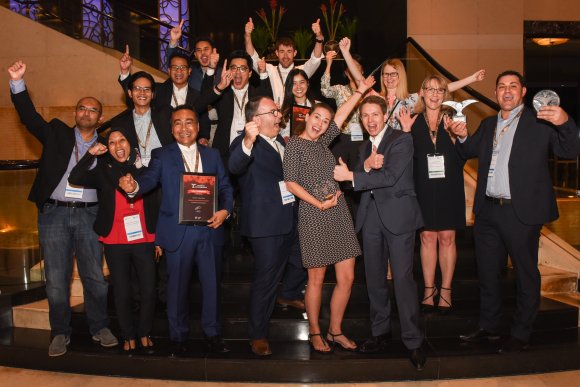 In the third of a three-part feature, Routesonline takes a closer look at the organisations shortlisted in three categories of the World Routes Awards 2019. Here we profile three categories: Rising Star, Individual Leadership and Overcoming Adversity.

Find out more about the finalists.
15.00 - Sri Lankan tourist traffic recovers after Easter attacks
Sri Lanka's airports have seen a dramatic recovery in traffic following a steep decline in demand caused by terrorist bombings in April.
Immediately after the Easter bombings of churches and hotels, inbound traffic was down to 25-30 percent of previous levels, according to Sanjeewa Wijeratne, executive director of Sri Lanka's Airport and Aviation Services.
The slump lasted until about June, he said on the sidelines of the World Routes conference. The fall in demand was a severe blow to all aspects of the nation's tourism industry.
The recovery started slowly, as many visitors took a "wait and see" approach. Now, however, traffic has rebounded and "flights are full" again, said Wijeratne. He predicts that by November, passenger numbers will have fully returned to their pre-April levels.
"I think it's a really speedy recovery," Wijeratne said. "We all thought it would take two years to bounce back, but the recovery has been faster than expected."
He cited Emirates and Qatar Airways as two examples of airlines that are seeing load factors climb back towards normal.
The Chinese and Japanese markets were particularly hard hit by demand declines due to concerns about security. However, two Chinese airlines that pulled out of the market -- Air China and China Southern -- have now returned, Wijeratne said. Aeroflot also pulled its flight from Sri Lanka, but is expected to return this winter.
14.15 - Cobham Aviation raises its brand under new CEO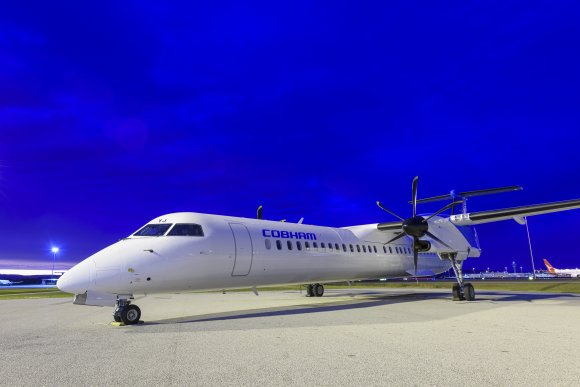 Australia's largest provider of contract aviation services, including passenger flights and air freight operations, is a name unfamiliar to many outside the country. That's starting to change.
Under the new leadership of 37-year-old CEO Ryan Both, Cobham Aviation Services is building its brand awareness in Australia and on the global stage.
Among Cobham's commercial work, the company is the only third-party passenger transport provider operating under the Qantas brand, using a fleet of 20 Boeing 717s and also providing pilots, cabin crew and maintenance support as part of a long-term contract. The aircraft carry more than 2.5 million passengers for Qantas each year.
Earlier in September, Cobham also extended an agreement with Qantas Freight for a further six years to operate its four BAe 146-300QTs that carry some 25,000 tonnes of freight annually between Adelaide, Melbourne, Sydney and Brisbane.
Under its own brand, Cobham also operates premium regional passenger flights, providing access to remote sites in Australia in support of the mining, oil and gas industries.
On top of the 146 freighters and 717s, Cobham's fleet includes ten passenger 146s and an Embraer E190 that was delivered in May as part of a fleet modernization. The first of three de Havilland Q400s is scheduled to arrive in December.
The company also conducts substantial government and defense work, including providing aerial surveillance and search and rescue services.
Both's return to Cobham as CEO—he was with the company between 2004 and 2011--follows work as senior vice president commercial at Melbourne Airport and as head of mining and resource sales at Virgin Australia.
13.30 - Long-haul growth on the agenda for expanding Budapest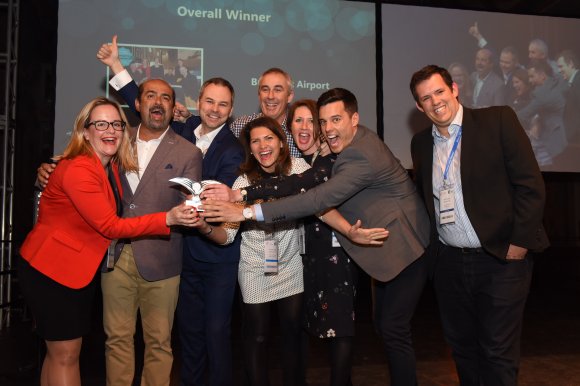 Although its traffic is dominated by short- and medium-haul services, Budapest Airport has received a significant boost to its network in recent weeks after securing new routes to major whitespots in Asia and North America.
In an eventful few days in late July/early August, LOT Polish Airlines opened reservations for a new service linking the Hungarian capital with Seoul, while American Airlines confirmed plans to launch a route to Chicago.
LOT's flights to Seoul Incheon will operate three times per week using Boeing 787-8 from 22 September 2019, becoming the Star Alliance member's first to Asia from Asia. American, meanwhile, will begin four-weekly seasonal flights from Chicago O'Hare on 7 May 2020 on board Boeing 787-8.
The new routes are just the latest successes for Budapest's Ferenc Liszt International Airport, which was named Overall Winner at the Routes Europe 2019 Marketing Awards, and is now shortlisted in the World Routes 2019 Awards.
"Over a five-year time period LCC capacities have doubled," says Budapest Airport's chief commercial officer Kam Jandu. "But full service airlines have also grown by 52 percent versus 2014, demonstrating that Budapest continues to boom and airlines, in all categories, are tapping in to the opportunity we present here.
"A further example of this is that in the last five years we have grown the number of destinations served from 88 to 147."
12.30 - World Routes Awards 2019 finalists - part two
In the second of a three-part feature, Routesonline takes a closer look at the organisations shortlisted in three categories of the World Routes Awards 2019. Here we profile three categories: Over 50 Million Passengers, Destination and Airline.

Find out more about the finalists.
12.15 - Breaking news on Thomas Cook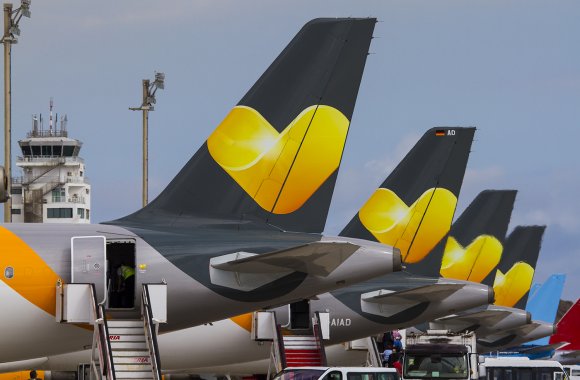 Thomas Cook, the world's oldest holiday company, has ceased trading with immediate effect after last-ditch talks to save the UK business failed.
All of the 178-year-old group's bookings, including flights and holidays, have now been cancelled. There are currently more than 150,000 Thomas Cook customers abroad, almost twice the number that were repatriated following the failure of Monarch two years ago.
Thomas Cook chief executive Peter Fankhauser said the collapse was a "matter of profound regret". The tour operator's failure puts 22,000 jobs at risk worldwide.
"This marks a deeply sad day for the company which pioneered package holidays and made travel possible for millions of people around the world," Fankhauser added.
The UK government has asked the UK Civil Aviation Authority (CAA) to launch a repatriation programme over the next two weeks. The CAA has already secured a fleet of aircraft from around the world to bring passengers back to the UK with return flights.
A statement from the CAA added: "Due to the significant scale of the situation, some disruption is inevitable, but the Civil Aviation Authority will endeavour to get people home as close as possible to their planned dates."
Grant Shapps, the UK's transport secretary, described the repatriation task as "enormous" and "the biggest peacetime repatriation in UK history".
Read more on this breaking story.
12.00 - Western Sydney seeks airline input
Western Sydney Airport's chief executive Graham Millett has invited airlines to help design their dream airport from the ground up.
"This year we signed MOUs with the Qantas Group and Virgin Australia Group," Millett said. "Our close engagement with these airlines has already helped shape the design and operational planning of Western Sydney International.
"Insights from industry into how we build a modern, efficient airport that represents an enticing commercial proposition for airlines are proving invaluable."
Construction of the A$5.3bn Western Sydney Airport is underway and on track to begin operations in 2026.
Millett added that building a new, greenfield airport provides opportunities to use smart design and technology to offer airlines and passengers an improved experience.
"We're designing an airport that will minimise aircraft turnaround times so airlines using our airport will have their assets spending less time on the ground."
Once operations begin in 2026, Western Sydney Airport said it will be the closest major airport for almost three million people.
"Cities around Australia with smaller populations, such as Brisbane, Perth and Adelaide have long supported international airports," Millett said.
"With 45 per cent of the region's population born overseas, the opportunities for the inbound and outbound international travel markets are obvious.
"I'm confident there's no region in Australia with more potential for visiting friends and relatives than Western Sydney."
11.45. - Don't miss the stand giveaways
11.30 - Interview: New runway to fuel Brisbane's route ambitions
With annual passenger numbers forecast to double to 50 million by 2040, Brisbane is positioning itself as Australia's future international gateway. Routesonline speaks to Jim Parashos, the airport's executive general manager of aviation development and partnerships, to find out more about its growth and how it intends to fulfil its ambitions.
Fresh from scooping the Overall Winner award at the Routes Asia 2019 Marketing Awards in Cebu, Brisbane is on a roll. Total passenger numbers grew by 1.7 per cent to more than 23.6 million in 2018, with international traveller numbers surging by 4.8 percent to more than six million.
Over the past two years it has secured new services from an impressive seven Asian airlines - Air China, Hainan Airlines, Malaysia Airlines, Malindo Air, Philippine Airlines, Royal Brunei Airlines and Thai AirAsia X - which have added non-stop links to the likes of Shenzhen, Kuala Lumpur and Manila to its route network.
Other successes have included Emirates adding a third daily flight to Dubai; strong growth in direct capacity to Taiwan by EVA Air and China Airlines; and Singapore Airlines' frequency rises and up gauges.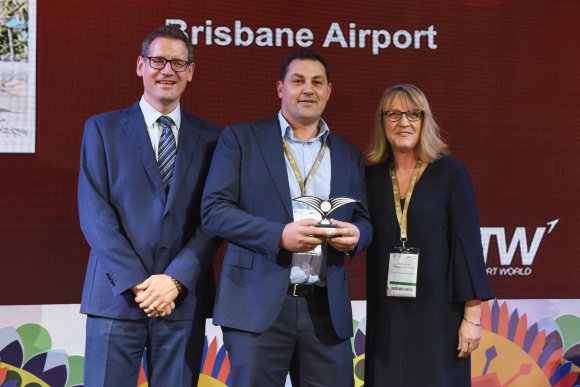 Jim Parashos, the airport's executive general manager of aviation development and partnerships, says the extra capacity has boosted many visitor markets. Among those to grow significantly in the last three years have been China and Hong Kong (+22 percent), Taiwan (+42 percent), India (+33 percent), Malaysia (+89 percent) and Philippines (+33 percent) among others.
"The growth has been driven by a strong local economy and increasing appeal of Brisbane and Queensland as a destination," Parashos explains.
"Brisbane is also looking to play a greater role as an international gateway for travel in and out of Australia. Part of the strategy is simply addressing the leakage of traffic from our catchment via other Australian ports, while also becoming the transit point of choice for international and domestic travellers."
11.00 - Can you spot yourself?
Some of the best images from day one of World Routes 2019 are now live.
10.45 - Watch our day one highlights video!
10.30 - Air India outlines post-privatisation fleet ambitions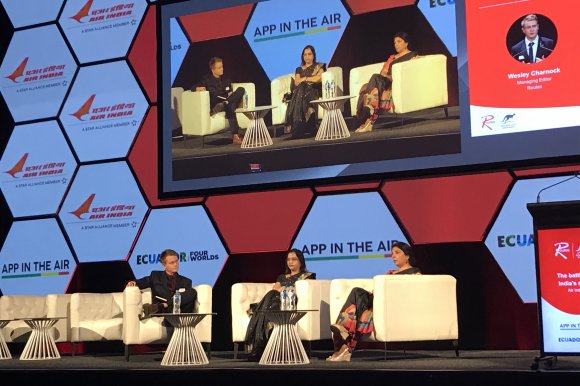 Air India is seeking to double its fleet to 250 aircraft over the coming years once the national carrier has been fully privatised.
Purnima Nerurkar, general manager commercial (strategy and planning) at Air India, told delegates at World Routes 2019 that the airline already has the bold plans in place - but it needs a supportive owner to help it fulfil its ambitions.
"We have a plan to ramp up our fleet and double it to 250 aircraft over the next four to five years," she said. "That's the plan we have already made and we are waiting for a new owner to come in and help us [achieve it].
"There is a need for us to grow. Air India is the only airline in India that has not added capacity in the last two years - all of the others have been continuously inducting capacity."
Air India currently has a fleet of 112 aircraft in service, with a further 25 in storage. Nineteen of its grounded aircraft are expected to re-join the fleet in the coming weeks. It is understood that two Boeing 787s will be the first to be made available for service, followed by four Boeing 777s and 12 Airbus A320 family aircraft.
"We're trying to get more aircraft out of maintenance and increase utilisation to that we can add more services," said Nerurkar.
"Our new Toronto flight is actually within the capacity that we have, we have not added any aircraft in the fleet. That's the reason we have started it with only three frequencies but we're hoping to ramp it up next year depending on how the divestment process goes forward."
Earlier this month, India's civil aviation minister Hardeep Singh Puri said the government is "determined" to privatise the national carrier. It is thought that the government is also open to selling a partial stake in the state-run carrier to a foreign airline.
10.00 - World Routes at 25

Gareth and Sarah share their most memorable World Routes moments.
09.30 - Hong Kong Airport predicts smaller September traffic decline
Hong Kong International Airport (HKIA) expects the impact of the recent civil unrest on its traffic to ease, with a smaller passenger decline in September and the potential for a significant rebound in 2020 results.
Although Hong Kong International Airport (HKIA) has been hit hard by the recent civil unrest in Hong Kong, airport officials predict a smaller traffic decline in September with the potential for a significant rebound in 2020 annual numbers.
The airport has already reported that its August traffic was down 12.4 percent year-on-year, which was mainly due to the protests that have swept the Special Administrative Region (SAR). This was the airport's largest monthly decline since 2009.
However, the drop in September "will not be as severe in August," said Michael Yuen, HKIA's general manager for airport and industry collaboration. While it is too early to give specific numbers for September, it appears that monthly figures "will still be down, but not as much," Yuen said on the sidelines of the World Routes conference in Adelaide. The same will apply to cargo volume at HKIA.
The airport was hit by about 1,000 flight cancelations in August due to the protests, some of which were at the airport itself. But there have been no cancelations related to the unrest so far in September, Yuen said.
Some airlines are cutting capacity in the Hong Kong market in response to the demand dip, including home-based carriers Cathay Pacific and Hong Kong Airlines, and overseas airlines such as Qantas. Yuen notes that some of the traffic decline is related to other factors such as the U.S.-China trade dispute.
09.00 - World Routes Awards 2019 finalists - part one
In the first of a three-part feature, Routesonline takes a closer look at the airports shortlisted in three categories of the World Routes Awards 2019. Here we profile three categories: Under 4 Million Passengers, 4-20 Million Passengers and 20-50 Million Passengers.
Find out more about the finalists.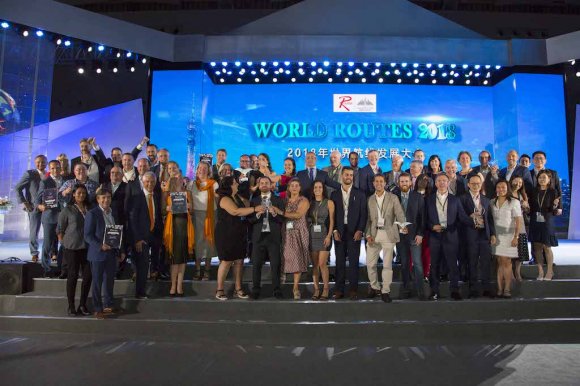 08.45 - View the latest images
View some of the latest images from World Routes 2019 so far over on our Facebook page.
08.30 - Hawaiian boosts Japanese network with new flights
Hawaiian Airlines sees potential to grow its already strong presence in the Japanese market by expanding its own flights and through its proposed joint venture with Japan Airlines (JAL).
The Hawaii-Japan market is extremely competitive, with six airlines flying between the two countries. Hawaiian accounts for about a quarter of this market, said Brent Overbeek, Hawaiian's senior VP for revenue management and network planning, at World Routes 2019.
The airline already serves four airports in Japan, and is due to add a fifth in November with a route from Honolulu to Fukuoka. Hawaiian has three flights a day to Tokyo, serving both Haneda and Narita airports. It expects to launch its fourth daily Tokyo flight next year using another Haneda slot awarded recently by the U.S. Transportation Dept.
Hawaiian has applied for antitrust immunity to form a joint venture with its partner JAL. The US DOT usually makes an initial ruling within a 180-day window, and such a timeline would indicate a tentative decision within the next few weeks, Overbeek notes.
The two airlines are already discussing some aspects of their partnership that are allowed without antitrust immunity, Overbeek said. Assuming they gain regulatory approval, they would probably look to begin aspects of the joint venture in early 2020.
The partnership allows Hawaiian to capture more traffic to Hawaii from cities beyond its Japanese gateways, said Overbeek. This is one of the reasons why the Haneda slots are so valuable for Hawaiian, as it can tap into JAL's domestic network more easily. There are far more domestic flights at Haneda than Narita, and the partners will work to open more one-stop connections to Hawaii.
Hawaiian previously had a "light partnership" with ANA, said Overbeek. But after considering its options, it switched to JAL in 2018. Hawaiian will also codeshare on JAL routes to some Asian destinations beyond Japan.
08.00 - Air India expands network despite ownership uncertainty
Despite its well-documented financial challenges, Air India is continuing to add new routes and expand its international network. In recent weeks, the state-owned carrier has announced or launched services to Seoul, Toronto and Nairobi among others.
A spokesperson told Routesonline that while uncertainty exists over its ownership - with India's government seeking to fully exit the airline before the end of the financial year - it remains the market leader in terms of capacity deployment between India and international destinations.
According to data provided by OAG Schedules Analyser, the carrier's total number of weekly airline seat kilometres (ASKs) on international routes from India totals 439 million during the week commencing 23 September 2019. This is 194.4 million more than Indigo in second position.
"We have a very vibrant market and even with a change in ownership we are confident that the airline will only grow in one direction – that is upwards," the spokesperson said.
"Air India has already launched its new routes to Toronto and Nairobi this year, and has restructured its network and added new connections."
---
Sunday 22 September
18.00 - Saudia looks to growth; sees LCC flyadeal evolving into feed carrier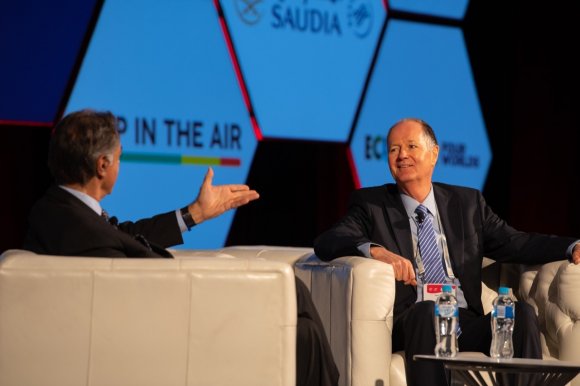 Saudi Arabian Airlines is on a growth plan that will both extend its reach to European destinations using long-range narrow-bodies and broaden its international base by focusing on countries with high concentrations of Muslim populations.
Saudia CEO Jaan Albrecht, a keynote speaker at World Routes on Sunday, said that it was previously an airline that didn't promote itself, but that has all changed.
"It's a different story now," he said, both at the airline and in Saudi Arabia, with cities like Jeddah opening up and becoming "fascinating, vibrant" places.
A new government policy that starts at the end of September will also allow visitors from 49 countries to apply for electronic visas that will be much easier and cheaper to obtain—permitting passenger growth.
"The strategy will be to mainly focus on Muslim markets and on sixth freedom traffic connecting countries with high Muslim concentrations to other countries with high Muslim concentrations."
17.30 - Festival 25 is in full swing!
16.45 - World Routes at 25
16.30 - Work needed to address gender leadership imbalance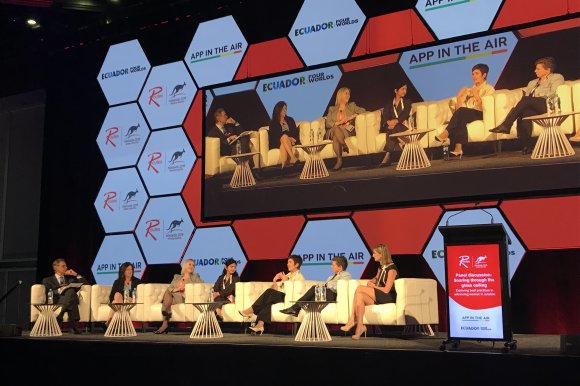 Introducing quotas for female chief executives is not the answer in the quest for equality in the global aviation industry, delegates at World Routes 2019 have been told, but more must be done to enable the advancement of women into important leadership roles.
The panel discussion featured six female leaders from a diverse range of backgrounds, including the current Tigerair Australia chief executive Merren McArthur and Lorie Argus, chief executive of landside infrastructure at Melbourne Airport.
The discussion covered a wide range of issues, with panellists agreeing that a perceived lack of advancement in the industry and subconscious gender bias were among the biggest hurdles facing women.
"One of the questions that I often get asked is, 'what's the key inhibitor to women progressing in aviation?' The answer is men," said McArthur.
"There are just so many men in aviation and so that does define the behaviours and the expectations of what it means to be a leader."
According to figures from IATA, women hold just 3 percent of airline CEO positions worldwide. McArthur stressed that if there were more female role models in aviation, then more women would have the confidence to become female leaders.
"Women have to grow and develop the confidence that come naturally to a lot of men in senior leadership roles," she added.
On the subject of whether organisations should be required to have quotas for women at board level, Argus argued that it should be a meritocracy.
"I think it just needs to be the right person for the job," she said. "My fear is if you have quotas that are mandated, then you'll potentially push women into jobs that they aren't the best fit for.
"However, targets are needed because they put attention on an issue, but I don't think they should be mandated to the point that you're forced to choose somebody based on gender."
16.00 - Community spotlight: App in the Air
Routesonline finds out more about App in the Air from Bayram Annakov, the travel assistant app's chief executive and founder.
What is the purpose of App in the Air? "Aviation has always been a personal passion and in 2012, I was able to also make it a profession, founding App in the Air. At the most basic level, App in the Air is a technology company for frequent fliers and the airlines and airports that serve them. Our products cater to these audiences well; App in the Air is the application for frequent fliers that makes it easy to juggle multiple itineraries and rewards programs, with built-in features and a streamlined interface that take the hassle out of flying.
"For aviation customers, App in the Air has developed a new, customer-centric approach to network planning based on actal booking data that demonstrably and significantly improves predictions of schedule changes over the traditional Quality Service Index (QSI) approach."
15.30 - Adelaide market review and passenger traffic forecast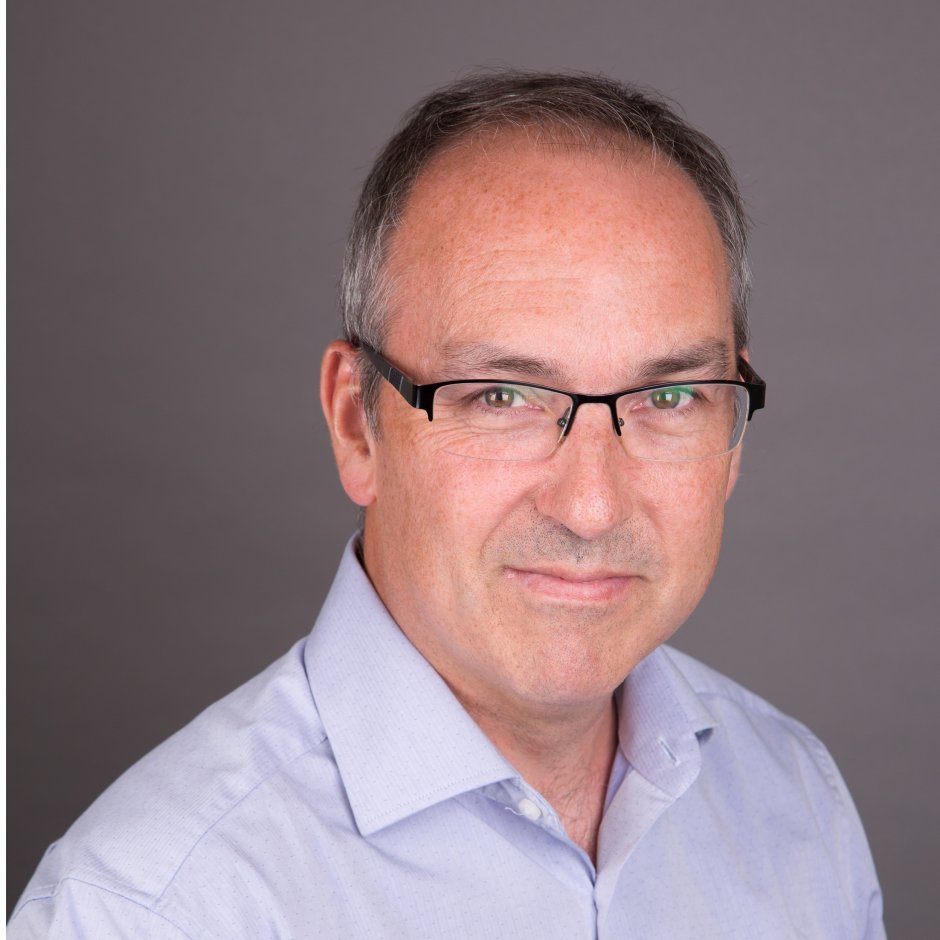 Aidan Mooney from leading aviation consultancy ASM looks at some of the Australian city's largest unserved markets and evaluates their potential performance and yield.
Adelaide Airport's international capacity has grown solidly in recent years, with figures from OAG Schedules Analyser showing a year-on-year rise of 4.5 percent in 2018.
Growth this year has so far been driven by increases in capacity from Malaysia Airlines and Cathay Pacific, as well as China Southern upping its Guangzhou service from three to five flights per week. Singapore Airlines' up-gauge of aircraft in December 2018 has also helped to stimulate international traffic growth.
Overall passenger numbers in 2017/18 totalled 8.4 million, with about 300,000 of these connecting through the airport's facility. Looking specifically at the 2018 traffic data from Sabre Market Intelligence, Adelaide Airport had 6.6 million passengers travelling on direct services and a further 1.5 million travelling to or from the airport but making a connection.
15.00 - From the Keynote Theatre
14.00 - Europe to see more consolidation - airBaltic boss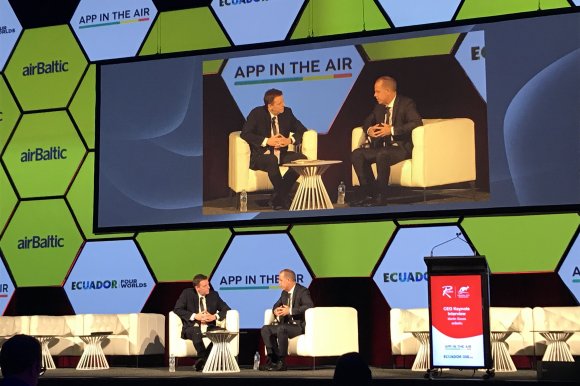 Europe's airline industry is ripe for further consolidation although it will not be on the same scale as in the US, according to airBaltic's chief executive.
Martin Gauss said he expects more carriers will disappear over the coming years but believes the market will continue to remain fragmented.
OAG figures show that Europe's top five airlines by capacity had a combined 30.0 percent share of the market in 2018. Contrast that to the US and the top five accounted for 75.2 percent.
"Consolidation is there and it's coming more and more," Gauss told delegates during a keynote interview at World Routes 2019 in Adelaide.
"However, it won't be like in the US. I don't think we'll get to a point where there's only five major airlines in Europe.
"In Europe there are a lot of states that are not as close together as in the US. So that means there is a lot of national interest about connectivity."
After the high-profile demises of Air Berlin, Monarch and NIKI in 2017, the likes of Primera Air, Cobalt Air, Small Planet Airlines and NextJet were among the airlines to bite the dust in 2018.
Flybmi ceased operations in February 2019 and Icelandic low-cost carrier WOW Air failed a month later, while in recent days XL Airways has suspended ticket sales due to financial difficulties.
Thomas Cook could also fall into administration over the coming days unless it finds £200m in extra funds needed to secure its future.
"Thomas Cook is obviously in very big trouble," said Gauss. "There are airlines where two years ago no one would have thought there would be an issue. That's where the consolidation will happen."
Gauss joined Latvian carrier airBaltic eight years ago and has overseen a dramatic upturn in its fortunes. The hybrid airline underwent a restructuring programme between 2011 and 2015, but has grown strongly since 2016.
It has achieved positive net profits for six years and is partway through a transition towards a fleet wholly consisting of the Airbus A220-300 aircraft, for which it was the launch customer in 2016.
13.30 - Oakland seeks to build on Southwest success
One of the main headlines for Southwest's network development in 2019 has been the airline's long-awaited launch to Hawaii. Its first-ever commercial flight to the Hawaiian Islands departed from Oakland to Honolulu on 17 March 2019, finally giving the low-cost carrier a footprint in the holiday hot spot.
The launch of the route has been a particular coup for Oakland International Airport, which has enjoyed a sustained period of growth in recent years. In 2018, more than 13.5 million passengers departed or arrived the Californian airport, a rise of 4 percent compared with the previous 12 months. The figure also marked its highest passenger count since the record year of 2007.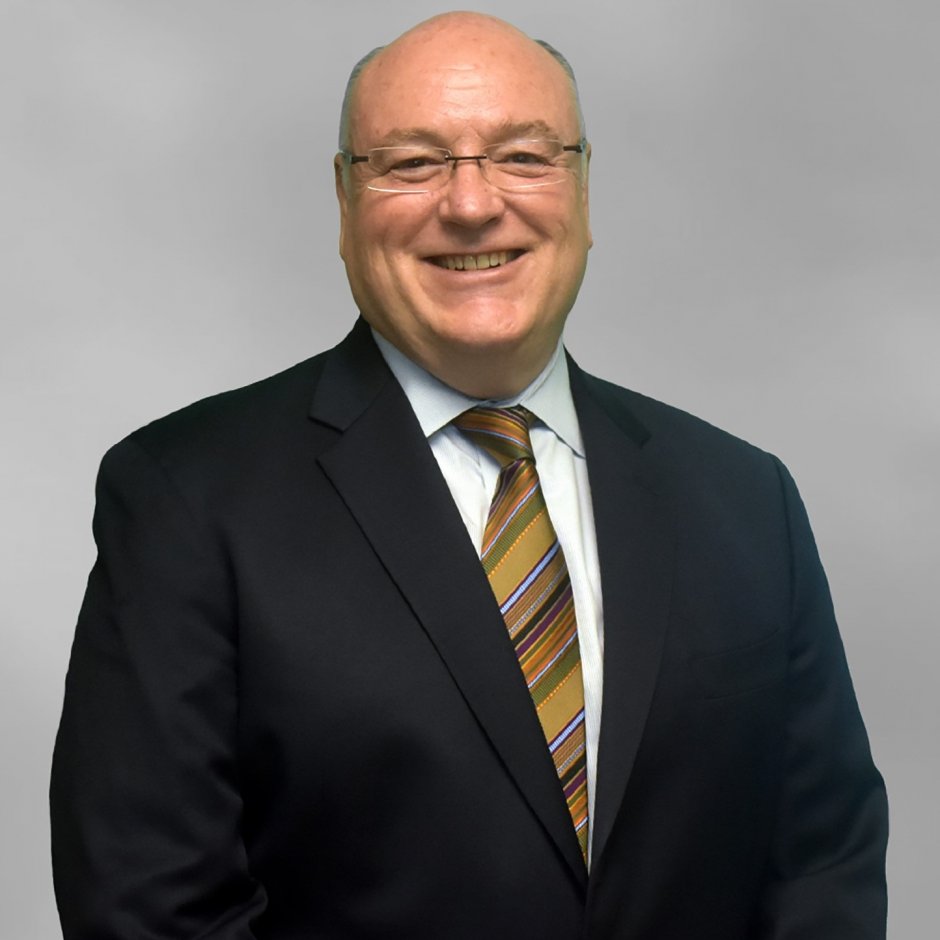 Southwest now operates two routes to Hawaii from Oakland, consisting of double-daily flights to Kahului and Honolulu on board Boeing 737-800 aircraft. Further growth in the market is expected once the 737 Max grounding has been lifted.
John Albrecht, the Port of Oakland's manager of aviation marketing, told Routesonline the new flights have been "phenomenally well-received," despite Oakland already having connections to Honolulu and Kahului with Alaska Airlines and Hawaiian Airlines.
The two carriers also fly to Lihue, while Alaska Airlines and Kaiser Air operate scheduled service between Oakland and Kona.
"It really emphasises the demand for Hawaii, among other markets, that exists primarily in the San Francisco East Bay area," Albrecht adds. "Southwest obviously had a lot of choices on the West Coast, but Oakland is home to their largest West Coast operation.
"The combination of the large pilot and flight attendant bases along with new ETOPS maintenance station and associated personnel, and the great customer service staff here at OAK no doubt helped their decision-making."
13.00 - Get ready for Festival 25!
Don't miss out on this year's World Routes exhibition activities during Festival 25! Our exhibitors will host a range of exciting activities on their stands including; food, drinks, entertainment, giveaways, prizes and much more.
12.00 - World Routes at 25
Thank you to the team at Amsterdam Airport Schiphol for the silver stroopwafel to celebrate the 25th anniversary of World Routes!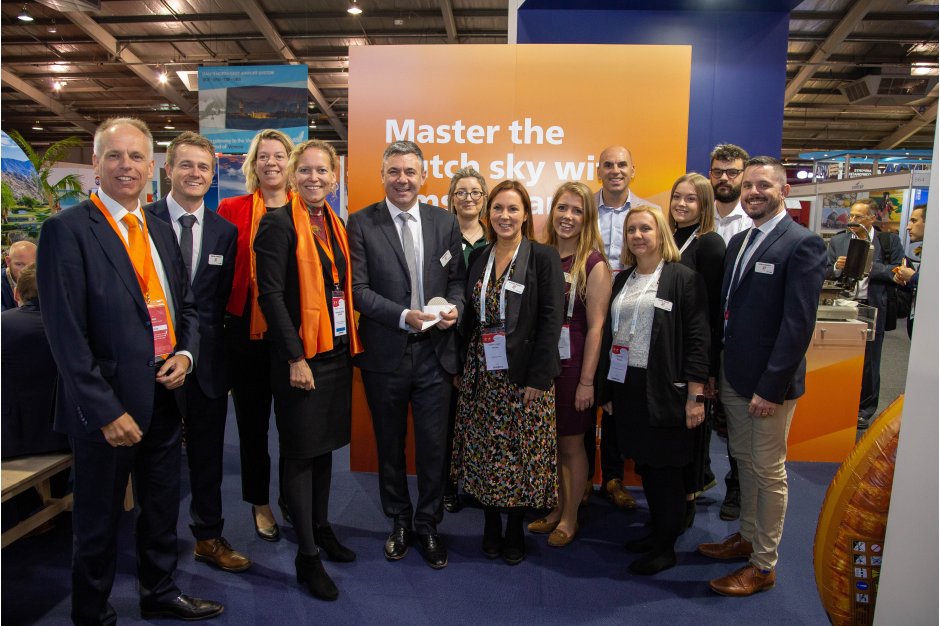 11.30 - Darwin and Haikou seek non-stop route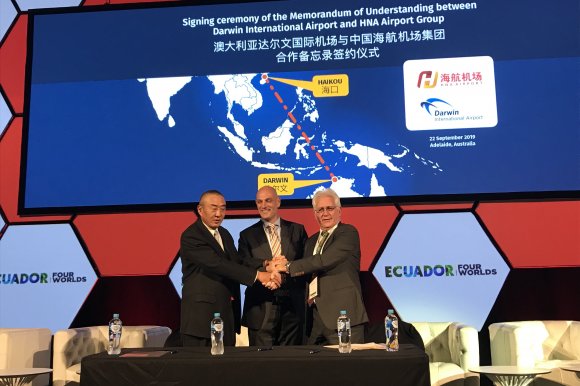 An agreement designed to bring a non-stop route between the Australian city of Darwin and Haikou, the capital of China's island province Hainan, has been signed during a special event at World Routes.
The Memorandum of Understanding was signed by Zhen Wang, chairman of the HNA Airport Group and Shane de Wit, director of commercial and aviation development at Darwin International Airport.
It comes a year after Darwin International Airport met with several Chinese airlines at World Routes 2018 in Guangzhou to discuss a possible air routes between China and the Northern Territory capital.
"With the increasingly close exchanges between Australia and Haikou, both Darwin International Airport and Haikou Meilan International Airport are confident there is scope to develop more routes to Australia and in particular to Darwin," said de Wit.
Darwin and Haikou formally established a sister city relationship in 1990 and since then there have been a number of successful education, arts and cultural exchanges between the two cities.
11.00 - World Routes at 25

Having been with the business for more than 18 years, marketing director Natasha has plenty of stories to share about World Routes.
10.30 - airBaltic's CEO
10.00 - India offers 'huge opportunities' for Australia growth
Improving connectivity with India is a key target for the Australian government, the country's minister for trade, tourism and investment has told delegates at World Routes 2019.
Speaking at the 25th world route development forum in Adelaide, Simon Birmingham said that 1 million Indian tourists are expected to visit Australia each year by 2030 but new air services are required if that demand is to be met.
"We've seen huge growth in arrivals from India - there has been five consecutive years of double-digit growth in both arrivals and spend in Australia," he said.
"In the year to March 2019, arrivals reached a high of 342,000, representing a 15 percent increase in the last 12 months alone. Some projections estimate the number of Indian visitors to Australia is expected to grow to potentially around 1 million by 2030.
"However, growth in arrivals and visitors has not been matched with direct aviation services. Currently Air India is the only direct flight provider, with eight flights to Delhi per week."
Birmingham said that 90 percent of Indian visitors to Australia therefore travel indirectly, adding there is "huge potential" for the addition of non-stop services. He therefore called on airlines and airports to increase the number of direct flights between Australia and India to meet the growing demand.
"Based on the predicted increase in tourism numbers to 2030, to meet the demand there will need to be growth of approximately 60,000 additional seats per year on average over the next decade. That's equivalent to around 250 direct flights per year, or five extra flights per week."
Birmingham also pinpointed Japan as a major focus for inbound growth, saying it presents "huge future opportunities" for Australia's tourism industry.
09.30 - World Routes opening remarks
09.00 - Revealed: World's busiest routes continue to grow
The busiest passenger air routes on earth have been revealed in a new study published by Routesonline, with the number one extending its lead. The research has been revealed as the 25th World Routes gets underway in Adelaide, Australia.
With more than 14.1 million passengers flying between the destinations in 2018, the route between Seoul's Gimpo Airport (GMP) and Jeju (CJU) off the coast of the Korean Peninsula remains the busiest on earth.
The 450 km domestic route attracted a total of 14,107,414 passengers during the year, representing a rise of 4.8 percent compared with the previous 12 months. However, this was slower than the 9.4 percent growth enjoyed in 2017.
The route transports mainly leisure passengers from South Korea's dense capital city to the island of Jeju, famed for its white sandy beach resorts and volcanic landscape.
Together the eight airlines operating the route offered an incredible 82,000 flights, OAG Schedules Analyser data shows, equating to about 225 each day or one every 9 minutes 20 seconds.
The research, conducted by Routesonline, ranked the top 100 busiest routes in the world using passenger data from Sabre Market Intelligence.
Seoul Gimpo - Jeju carried 4.4 million more passengers than the second busiest route which connects Sapporo (CTS) and Tokyo (HND). A total of 9.7 million passengers flew between Sapporo and Tokyo Haneda in 2018, a rise of 11.1 percent compared with the previous 12 months.
08.30 - Welcome from the Hosts
Rodney Harrex, CEO, South Australian Tourism Commission
"On behalf of the Hosts of World Routes 2019, the South AustralianTourism Commission, Tourism Australia and Adelaide AirportLimited, I am delighted to welcome you to our vibrant state for the25th annual World Routes.
"A special congratulations for the celebration of 25 years of World Routes. It is a testament to the importance of this internationalaviation development forum that it has endured for so long. Adelaide is proud to be associated with a long list of global cities who havehosted the event.
"Adelaide is a relaxed and vibrant city surrounded by vineyard-covered hills, produce-filled valleys and stunning coastline. We are known for our world-class wines, fresh seafood and abundant produce, all of which you will enjoy tasting during World Routes.
"We hope delegates will extend their stay to explore South Australia. Visit unique outback towns such as Coober Pedy – the wide openoutback landscapes of the Flinders Ranges, enjoy cruising on themighty Murray River or taste the seafood frontier of Eyre Peninsula and its amazing and wild coastallandscapes.
"Adelaide Airport is currently midway through a $165m terminal expansion. This development will improvethe arrivals and departures experience for international passengers and increase the airport's retail footprint by 80 percent. Due for completion in 2021, it will provide a fantastic welcome for visitors to Adelaide.
"Adelaide is a hub for many significant industries including mining, defence, agriculture, and is a leader inrenewable energy. Adelaide was recently announced as the national headquarters for the Australian Space Agency.
"We are excited to be hosting World Routes in our city and we thank Steven Small and the Routes team forsupporting us in bringing the event to Australia.We wish all delegates a successful and productive World Routes event and a memorable time in Adelaide, South Australia.
"On behalf of the South Australian Government, I thank you for your participation in World Routes 2019. Regardless of how long you are here to stay, our state is guaranteed to please. Tourism is South Australia's super-growth area, and I invite you to be part of our prosperous future."
08.00 - The 25th World Routes is underway!
---
Saturday 21 September
18.00 - The Welcome Party is underway!
17.00 - Behind the scenes!
16.00 - Community spotlight: App in the Air
Routesonline finds out more about App in the Air from Bayram Annakov, the travel assistant app's chief executive and founder.
What is the purpose of App in the Air? "Aviation has always been a personal passion and in 2012, I was able to also make it a profession, founding App in the Air. At the most basic level, App in the Air is a technology company for frequent fliers and the airlines and airports that serve them. Our products cater to these audiences well; App in the Air is the application for frequent fliers that makes it easy to juggle multiple itineraries and rewards programs, with built-in features and a streamlined interface that take the hassle out of flying.
"For aviation customers, App in the Air has developed a new, customer-centric approach to network planning based on actal booking data that demonstrably and significantly improves predictions of schedule changes over the traditional Quality Service Index (QSI) approach."
15.30 - How Australia speaking with one voice is making the world listen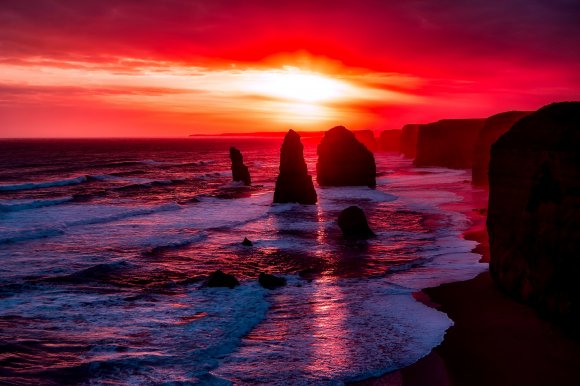 Australia attracted 9.3 million short-term international visitors last year, according to data published by the Australian Bureau of Statistics, representing a strong rise of 7.3 percent between 2013 and 2018. Growth is expected to continue with projections estimating the number of international visitors will surge to 15 million by 2026-27.
The healthy figures highlight the success of the country's Tourism 2020 strategy, a coordinated approach launched in 2009 to improve the industry's competitiveness and increase visitor expenditure to more than A$115bn annually.
However, as the end of the decade fast approaches attention now turns to the next set of ambitious targets, with the need to grow aviation capacity and open up new destinations an obvious priority.
"Obviously there a significant, short-term economic impact in hosting an event of this size and scale, but we see the biggest potential benefits lying further down the track," says Phillipa Harrison, Tourism Australia's managing director.
"Air access is a fundamental driver in the achievement of a sustainable tourism industry for Australia, and given the importance of direct aviation connectivity, aviation development remains an ongoing strategic priority for Tourism Australia.
"As the largest aviation conference in the world, World Routes gives us the chance to showcase Destination Australia to a highly influential group of professionals, who ultimately influence where the international airlines choose to point their aircraft."
14.00 - Get ready for Festival 25!
Don't miss out on this year's World Routes exhibition activities during Festival 25! Our exhibitors will host a range of exciting activities on their stands including; food, drinks, entertainment, giveaways, prizes and much more.
12.00 - Interview: JetBlue's expanding horizons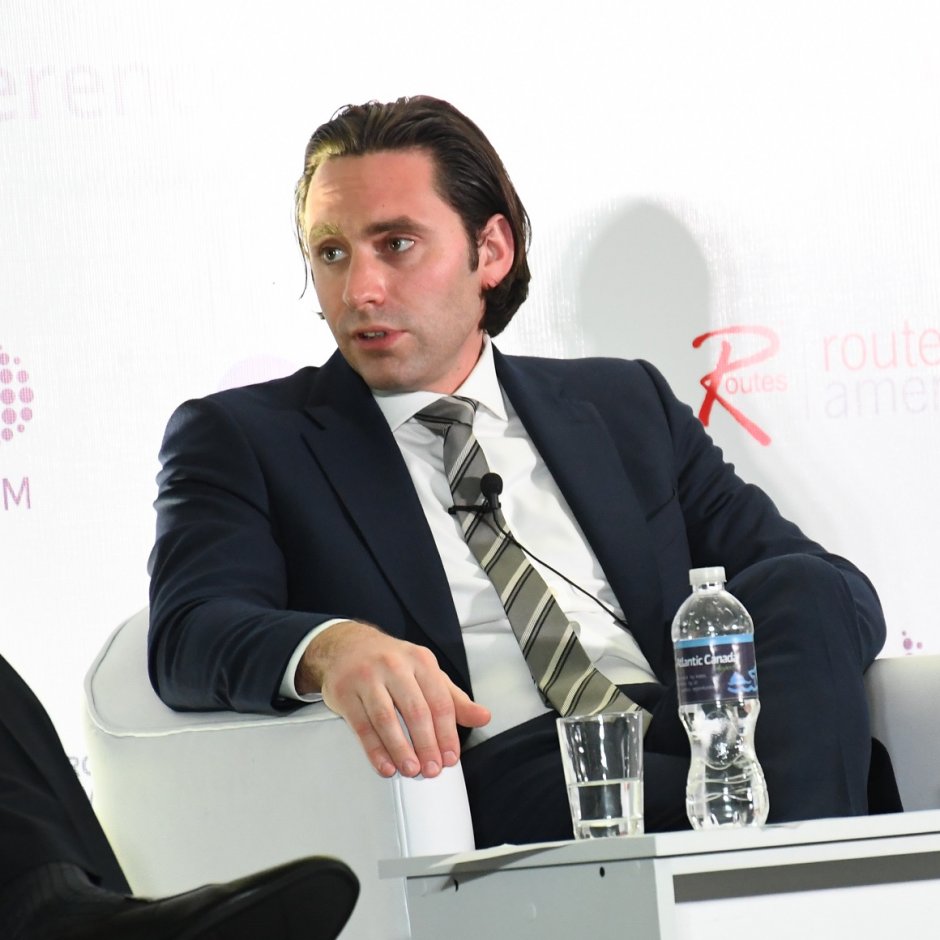 As JetBlue prepares to leave its teenage years behind, it is entering its third decade armed with a new fleet of Airbus jets and an appetite to expand into new untested markets.
The airline plans to join the transatlantic fray in 2021 with the launch of flights from both New York JFK and Boston Logan to an undetermined London airport, but entering such a competitive environment surely presents huge risks. So is it a gamble worth taking? "Absolutely," says Andrea Lusso, the carrier's director of route planning.
"The transatlantic announcement and the expansion is very much a focus city strategy for us. It's a New York and Boston strategy; it's not really a Europe strategy," he explains. "When you look at the type of markets we serve from New York and Boston, cities like London and Paris fit very well in those portfolios.
"We understand that the environment is very challenging and it's a different competitive strategy from what we've been dealing with for the first 20 years of JetBlue.
"That said, when I look at the history of incumbents and the carriers who have tried to enter the market and failed, we are uniquely positioned because we're not a low-cost carrier and we're not a legacy carrier. We fall somewhere in the sweet spot between those two."
11.00 - World Routes at 25
With 13 Routes events under his belt, senior scheduling and registration manager Simon tells us his most enjoyable World Routes moment.
10.00 - Adelaide sets 20 million target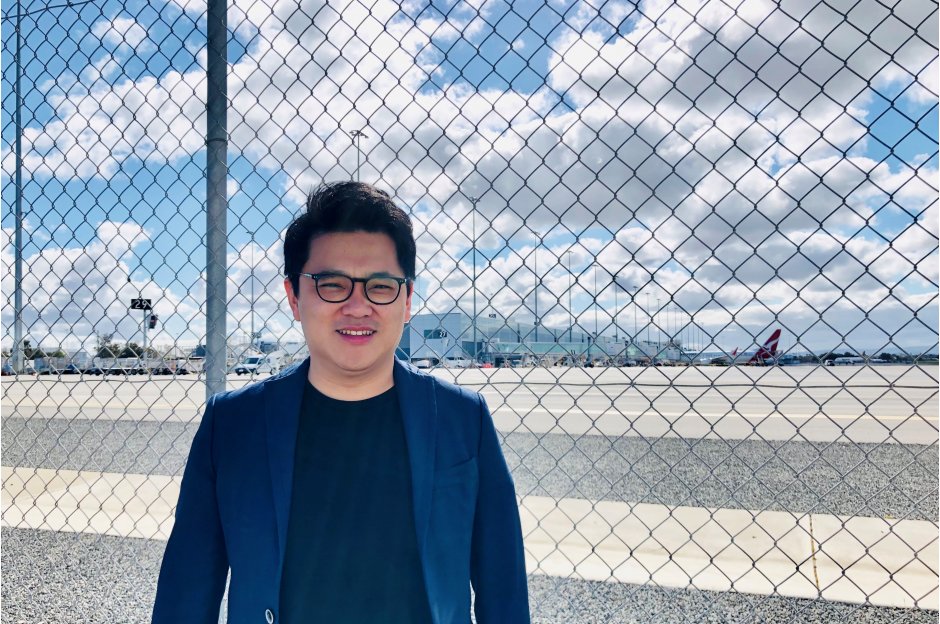 As World Routes gets underway, Adelaide Airport has laid out a vision to more than double annual passengers to almost 20 million over the next two decades, with routes to North America and untapped destinations in Asia high on its agenda.
The airport has published a draft masterplan which outlines the requirements for future facilities, infrastructure, ground transport and services to ensure that it remains an economic driver for the state of South Australia.
The masterplan's forecasts indicate passenger numbers will jump to 19.8 million by 2039, including 3.3 million international travellers, while air freight will almost triple from 58,500 tonnes to 146,000 tonnes.
Since 2014, passenger numbers have increased by 1 million to 8.5 million in 2018, while the airport's contribution to Gross State Product has been boosted by more than A$1bn to A$2.98bn, representing 3.1 per cent of the state's economic growth.
Jonathan Cheong, Adelaide Airport's head of aviation development, admits the draft masterplan's targets are ambitious but told Routes that all stakeholders involved are confident they can be achieved.
"Our international growth has been very strong in recent years and we are Australia's fastest-growing airport for international passengers in the 2018-19 year," says Cheong. "That gives us the confidence that we can continue the momentum."
---
Friday 20 September
18.00 - World Routes at 25

Kirsty Studholme shares her most memorable World Routes moment.
16.00 - Will Qantas make the century-old London-Sydney dream a reality?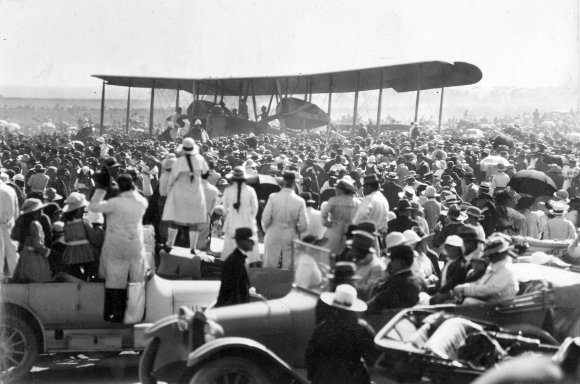 In August it emerged that Qantas is set to undertake research flights into the viability of non-stop routes from London to Sydney, a moved described by CEO Alan Joyce as "truly the final frontier in aviation".
The 19-hour flights made in a Boeing 787-9 will help to inform the carrier whether Project Sunrise is economically viable, with Qantas set to make a conclusion before the end of the year. Whatever the outcome, it's an odd twist of history that this decision will be made 100 years after the first intrepid explorers flew from the UK to Australia.
In 1919 when the Australian government offered A£10,000 for the first Australians in a British aircraft to complete the journey, six hardy teams signed up in a bid to make history. Two crews died in the attempt and another two crashed out, but Ross and Keith Smith, sons of World Routes 2019 host Adelaide, won out in a converted Vickers Vimy bomber. The aircraft used is actually still available to for the public to view at Adelaide Airport.
The total flight distance was estimated as 17,911 km and total flying time was 135 hours 55 minutes. It was almost four decades after the brave souls made the maiden voyage until Qantas launched the 'Kangaroo Route', a seven-stop expedition from London to the other side of the globe.
Read more about the history of the Kangaroo Route and Qantas' Project Sunrise plans.
14.00 - Find out more about Fast Track
Fast Track provides delegates with the opportunity to make quick introductions to key decision makers from all attending airlines at World Routes. Find out more.
12.00 - Understanding catchment and leakage data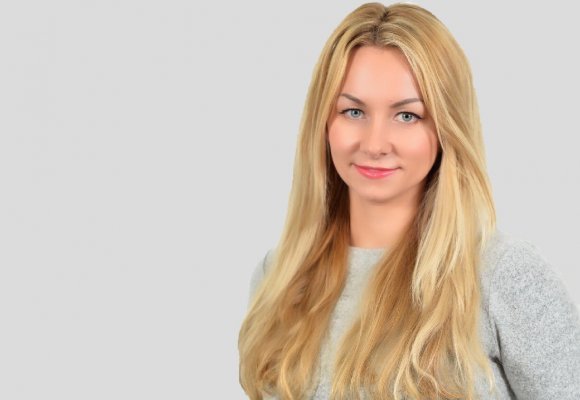 The introduction of web-based data has revolutionised how airports carry out detailed leakage analysis. Ilona Cambron, director air service development at ASM Americas, explains how to demonstrate the true potential of your market through data, leakage studies and traffic forecasts.
What is catchment and leakage as it relates to an airport? "Detailed leakage analysis is something US airports have been doing for at least a decade, but was recently revolutionised by the introduction of web-based data. Now that same data is available for many other countries, but how does it work?
"Obviously there are a lot of airports out there. To justify new service there are two avenues to prove the market to an airline. You can argue for stimulation, that the market will grow with the airline adding service. You can also argue for share shift from a nearby airport with existing traffic.
"The latter requires an analysis of your catchment and how much traffic is leaking between airports. Both of these traffic justifications represent risk for an airline in terms of determining what passengers will do. Anything that makes that analysis more rigorous and less of a guess improves your pitch."
How does this catchment and leakage data improve an airport's pitch to an airline? "Well, the data used to determine where passengers live and what airport they fly out of has been pretty limited up until now. There are a few sources, but the data has been locations of travel agents and in some cases credit card billing addresses, but nobody has created a product that takes the data and fills in all the gaps. This new product offers data by postal code with 100 percent traffic coverage and at a pretty detailed level while still respecting data privacy limits."
11.00 - airBaltic CEO to speak on Sunday
09.00 - Anticipation builds for World Routes 2019
Delegates are arriving in Adelaide for the 25th world route development forum, which is taking place from 21-14 September.
Adelaide is the capital city of South Australia – Australia's third largest state. It's a friendly, contemporary and vibrant city, surrounded by rolling hills, beautiful beaches and world-renowned wine regions. There are over 200 cellar doors within an hour's drive of the city centre.
Adelaide is a city of contrasts with elegant 19th century sandstone architecture standing side-by-side edgy bohemian laneways, wide boulevards, swathes of parks, gardens and open spaces.
Adelaide is the gateway to amazing Australian wildlife experiences, from cuddling koalas and feeding kangaroos, to swimming with sea lions and cage diving with great white sharks. We boast a full calendar of world-class events, taking full advantage of our great climate; there is something to see and do all year-round.
It's easy to see why for the seventh consecutive year, Adelaide was named in the world's Top 10 Most Liveable Cities.
Find out more about this year's host city.
---
Follow World Routes 2019 on Twitter
---
World Routes 2019 news
World Routes Awards - the finalists
The World Routes Awards, sponsored by Sabre, will take place at the World Routes Networking Evening. The evening will be hosted by the South Australian Tourism Commission, Adelaide Airport and Tourism Australia. Read Routesonline's profiles on all of the finalists: Part one, part two and part three.
Adelaide market review and passenger traffic forecast
Aidan Mooney from leading aviation consultancy ASM looks at some of the Australian city's largest unserved markets and evaluates their potential performance and yield. Read more.
Understanding catchment and leakage data
The introduction of web-based data has revolutionised how airports carry out detailed leakage analysis. Ilona Cambron, director air service development at ASM Americas, explains how to demonstrate the true potential of your market through data, leakage studies and traffic forecasts. Read more.
Adelaide sets 20 million target
Adelaide Airport has laid out a vision to more than double annual passengers to almost 20 million over the next two decades, with routes to North America and untapped destinations in Asia high on its agenda. Read more.