Routes Asia and World Routes Postponed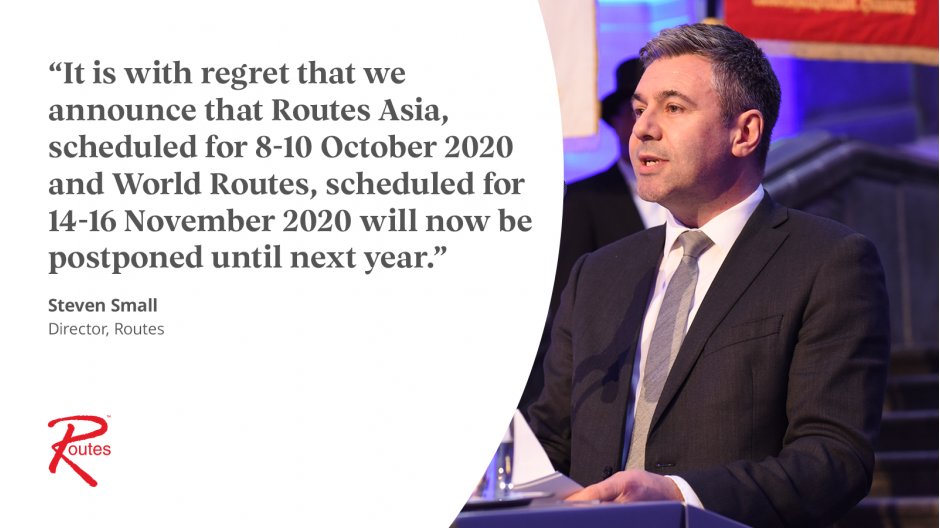 As we now embark on the second half of 2020 and the COVID-19 pandemic continues to develop on a global basis, government-imposed travel restrictions are still in place in many countries around the world.
We must now inform you that following careful consideration, and in close consultation with our hosts, Airports of Thailand and SEA Milan Airports respectively, it is with regret that we announce that Routes Asia, scheduled for 8-10 October 2020 in Chiang Mai, Thailand and World Routes, scheduled for 14-16 November 2020 in Milan, Italy, will now be postponed until next year.
We understand that there is a real desire from our community to meet and work together to navigate the unprecedented challenge that COVID-19 presents. Despite the tireless efforts of our host stakeholders and the Routes team, it is with a heavy heart that we have taken this difficult decision.
Both World Routes and Routes Asia will now take place in 2021, and I would like to thank both the Airports of Thailand and SEA Milan host teams for their professionalism, patience and commitment in reaching this difficult decision. Routes Asia will now take place on 2-4 June 2021 and World Routes on 5-7 September 2021.
Armando Brunini, CEO, SEA Milan Airports said: "It is with regret that we have had to support the Informa markets decision to postpone to next year the World Routes 2020 and look forward to giving the route development community the most unforgettable experience in Milano next year."
Airports of Thailand commented: "We have been in regular communication with the Routes team, our partners and stakeholders, throughout this period. This has been a difficult decision to make but we feel that it is important that the entire Asia-Pacific region are able to engage in conversations that will support the recovery and are hopeful that hosting Routes Asia in Chiang Mai in June 2021 will facilitate this."
Steven Small, Director, Routes, stated: "The innovation, resilience and cooperation demonstrated by the route development community throughout this unprecedented period will continue to be paramount in its road to recovery. We are committed to working with all our industry partners to facilitate conversations that will make a meaningful difference in restoring and reshaping the world's air services in the post-pandemic era."

He added: "It is for this reason, we will be launching a brand-new initiative for 2020 that will support the community in collaborating, negotiating and navigating this new era of partnerships. Watch this space."
For both Routes Asia and World Routes any exhibitor contract and delegate attendance fees (and payments) already made for both events will now carry over to the revised dates next year.
We would like to thank every customer who has supported us throughout this difficult and challenging year and greatly appreciate your patience and understanding.
Please accept our apologies for any inconvenience caused by such postponements. We will be in touch in the coming weeks with further information around this year's plans to enable the community to meet and work through recovery in an open and collaborative way.
Please contact your usual Routes Account Manager if you have any questions or concerns.