COVID-19 Update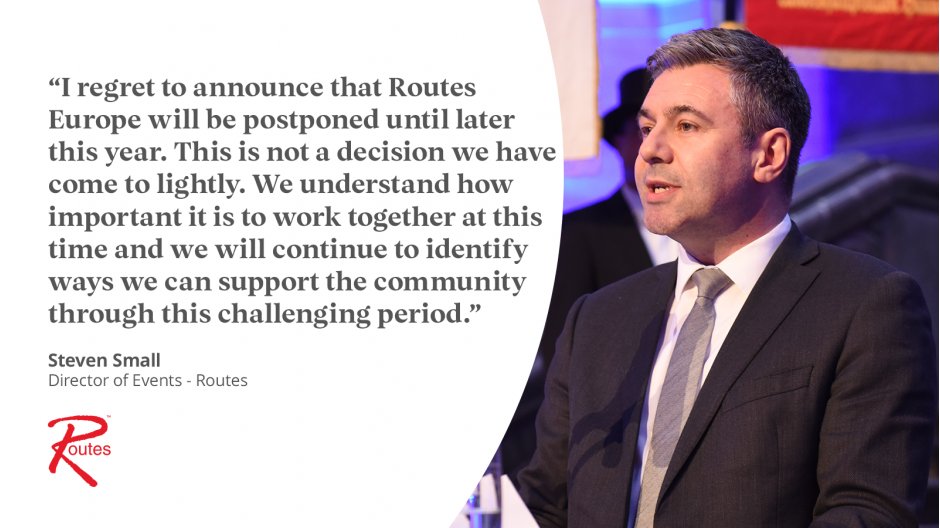 Thank you for your continued support of Routes Europe, which was scheduled to take place between 27-29 April in Bergen, Norway.
I regret to announce that Routes Europe 2020 is being postponed until later this year, due to the continuing uncertainty surrounding the COVID-19 (Novel Coronavirus) outbreak.
As the current outbreak continues to develop, you may now be aware of the restrictions that the Norwegian government and the Norwegian Institute for Public Health (FHI) have now put in place, around events of over 500 people being prohibited, together with entry and exit restrictions from certain countries.
The safety of our delegates, exhibitors, sponsors and our staff, is our utmost priority and we have been closely monitoring guidance from the FHI and the World Health Organization (WHO). For these reasons, it is with regret that, together with our hosts, Avinor, we have no other choice but to postpone Routes Europe until later this year.
"As the situation develops, the only responsible thing to do is to postpone Routes Europe, for the safety of all delegates and those involved. Now we must all contribute in order to limit the consequences of the disease. Avinor is working closely with Norwegian health authorities and follow their instructions and advice. I would like to send my deepest sympathies to all the airlines and industry partners that are struggling in this exceptional time that we are in. We are however looking forward to hosting Routes when the time is right, and we can all participate in discussions on how we in our industry can cooperate to secure future profitability again."

Gaute Skallerud Riise, Vice President Traffic Development, Avinor
Any exhibitor or sponsor contract and delegate attendance fees (and payments) already made for Routes Europe will carry over to the revised dates. We wish to thank each and every customer who has supported us on Routes Europe and greatly appreciate your patience and understanding.
Now is more important than ever that we continue to work together to ride this wave of uncertainty and prepare the industry for its return to normal service.
We will be in touch as soon as a new date is confirmed, and our partners affected will be informed. Please accept our apologies for any inconvenience and we look forward to welcoming you to Bergen later this year.
Useful Links